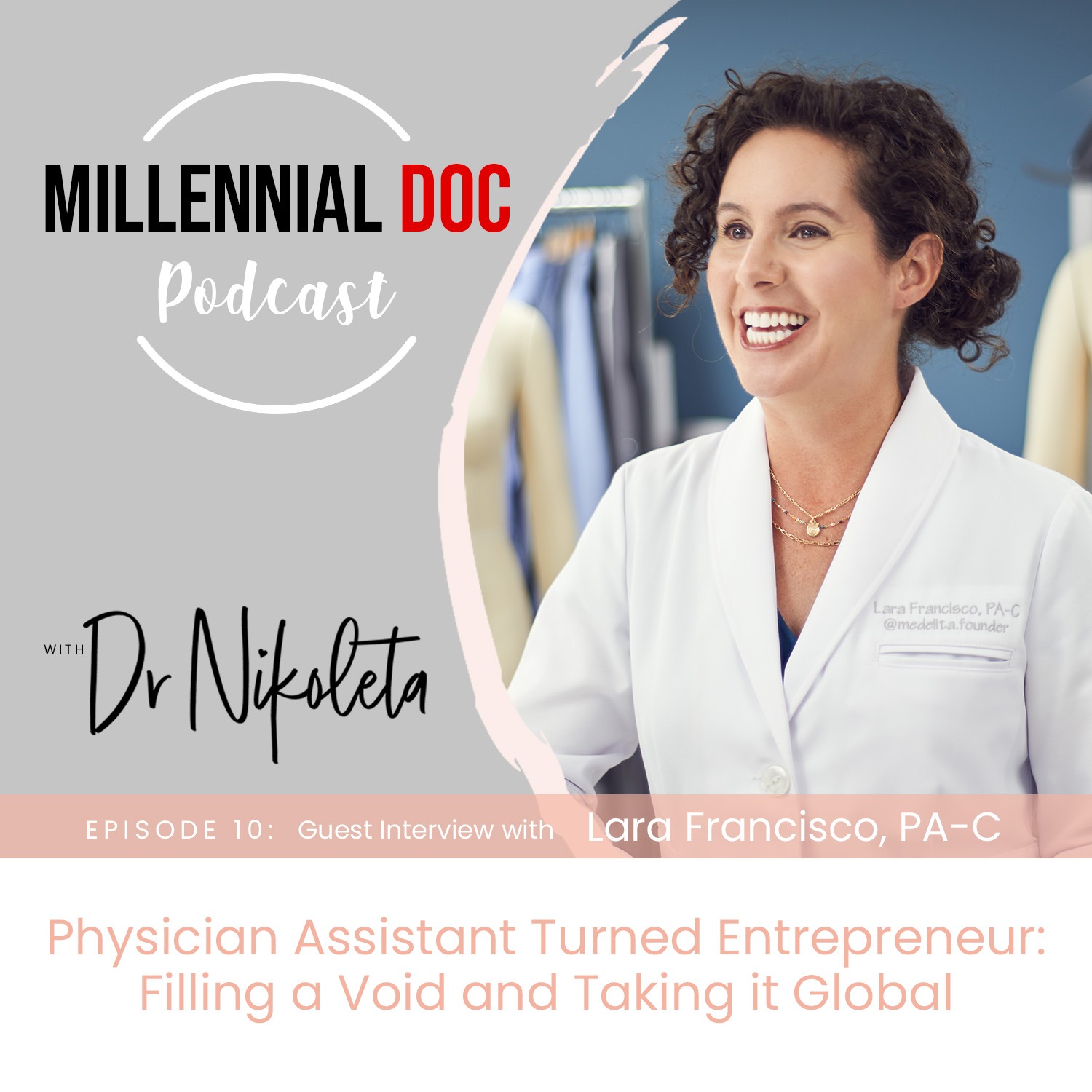 Welcome back, tribe! I hope you're having a wonderful day, and thank you so much for stopping by! 
If you are here, you have passion. Maybe you used that passion to attain a highly ambitious goal in medicine, and that's great! But I'm here to tell you that you can do other things too! 
Oftentimes, when we achieve our goals, we can get caught in the trap of believing that we are meant for just one thing. Well, that's just not true. It is more than okay to have multiple interests and to pursue other ventures, even when you may already have a career in medicine. 
In fact, one of the most beautiful things that you can do for yourself is to get rid of the idea that you can only do one thing in medicine! You are meant for so much more. You are meant to have an expansive mind and limitless potential — you are way more powerful than you think! 
Today, I am so excited to share a conversation that I had with someone who has shown me and others that it is possible to be multidimensional, as long as you have passion for what you are pursuing. Join me as I chat with Lara Francisco, PA-C, mama in medicine, and entrepreneur extraordinaire! 
You've probably heard of Lara's company already because Medelita has gone above and beyond to lead the industry for tailored lab coats and scrubs. I know that so many of you can relate when I say that it is essential to feel confident and stylish in your professional attire. Medelita makes that happen, and Lara made history by creating this innovative company. 
In this interview, Lara shares how she made her dream of founding Medelita a reality. I can't wait for you to hear what this inspiring female clinician-turned-entrepreneur has to say. Let's get into it!  
Who Is Lara Francisco, PA-C? 
Lara Francisco is the founder of Medelita, an amazing mom to three children, and a licensed physician assistant. In 2008, after working in emergency medicine for over a decade, she decided that the existing selection of ill-fitting, poorly designed lab coats and scrubs were no longer acceptable for healthcare providers.
Lara proceeded to make history by creating the first-ever lab coat for women and founding Medelita, a medical uniform company with a mission to create exceptional medical apparel that meets the needs of healthcare professionals everywhere! 
Since then, Medelita attire quickly caught the eyes of hospital professionals seeking a much-needed alternative to baggy and disposable unisex garments. The company has grown to become the industry leader in tailored lab coats and scrubs built for performance, functionality, and style.
With new collections available each year, Medelita medical attire remains at the crossroads of daily durability and timeless style. Lara started her company from nothing but a dream, and she was kind enough to share her story of inspiration and passion with us today!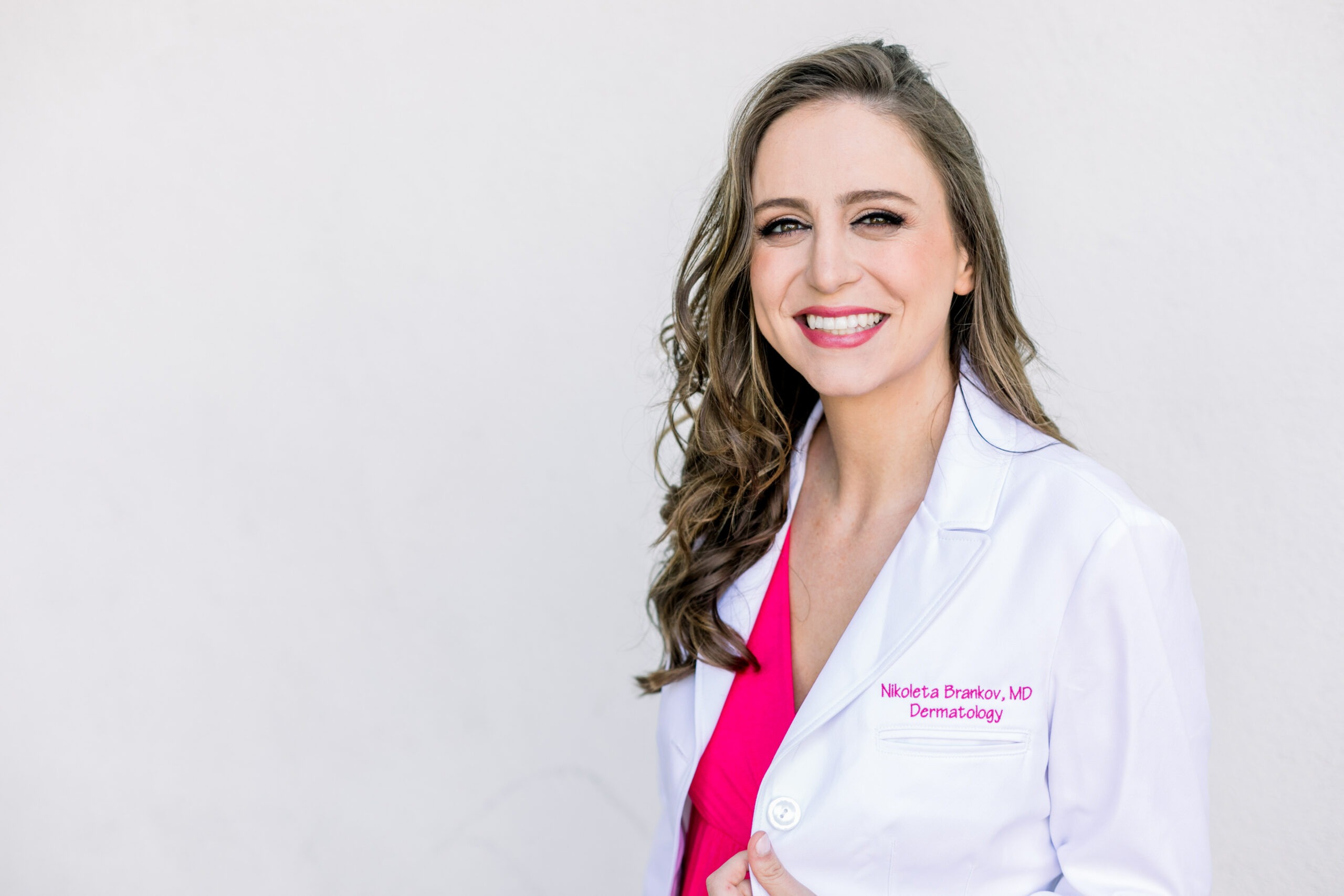 The Beginning of an Era: Lara's Journey to Founding Medelita
Lara's journey to founding Medelita started in kindergarten with her dream to be a nurse. Although no one in her family had an occupation in healthcare, Lara was only a child when she knew she wanted to pursue a career in medicine. She started out with a pre-nursing track at Emory University before realizing she wanted to pivot towards PA school. 
After working hard to get into PA school, Lara was so excited for the day she got to pick out her student white coat. It was a momentous occasion that signified her passion for medicine and commemorated the beginning of her education as a PA, and she couldn't wait for such a milestone event. However, when that day came, it ended in disappointment: 
"For us, it was a matter of being told to go to a local store and find [a lab coat]. And I walked into that store, and it was just a shoebox that was stuffed to the brim with tons of lab coats. They were all boxy and frumpy and shapeless. There was no differentiation between women's and men's, and the sizing was weird. It started as a very exciting day to go get your first lab coat to commemorate the start of school, and it ended up being sort of a dejecting experience that I never forgot." – Lara Francisco, PA-C 
That day was one of the first of many occasions where Lara was inspired to change the world of medical attire. Although Medelita did not come to life until much later, the idea was born early in Lara's career, and she carried her determination to make a difference with her all the way. 
Although she had the idea for creating a practical, feminine medical uniform for a long time, actually forming Medelita as a company was quite the challenge. Lara had no experience in entrepreneurship aside from watching her father, who was an entrepreneur. 
Growing up, she watched him lead conversations and command a room with his confidence and drive. This inspired her when she decided to take the leap with her own company. Lara didn't have any business training or commerce background — she simply had an idea that would help people and the drive to make it come to life:
"I took [Medelita] from a concept out of need and brought it to this point as a reality as something that's literally become a necessity for so many people in medicine. And I'm proud of that. … I think all you need is passion, an idea, and the drive to reach out to anybody and everybody to make it happen." – Lara Francisco, PA-C 
Isn't it incredible how Lara started with nothing but an idea and made it a reality? Now, her company is an essential part of the daily lives of thousands of healthcare professionals across the globe (now servicing both women and men). If you have a dream and the passion to chase it, there is nothing stopping you from making it happen!
Turning an idea into a reality is not always glamorous or easy, however. Lara faced her fair share of challenges along the way, and she shared her methods for overcoming those obstacles with us today!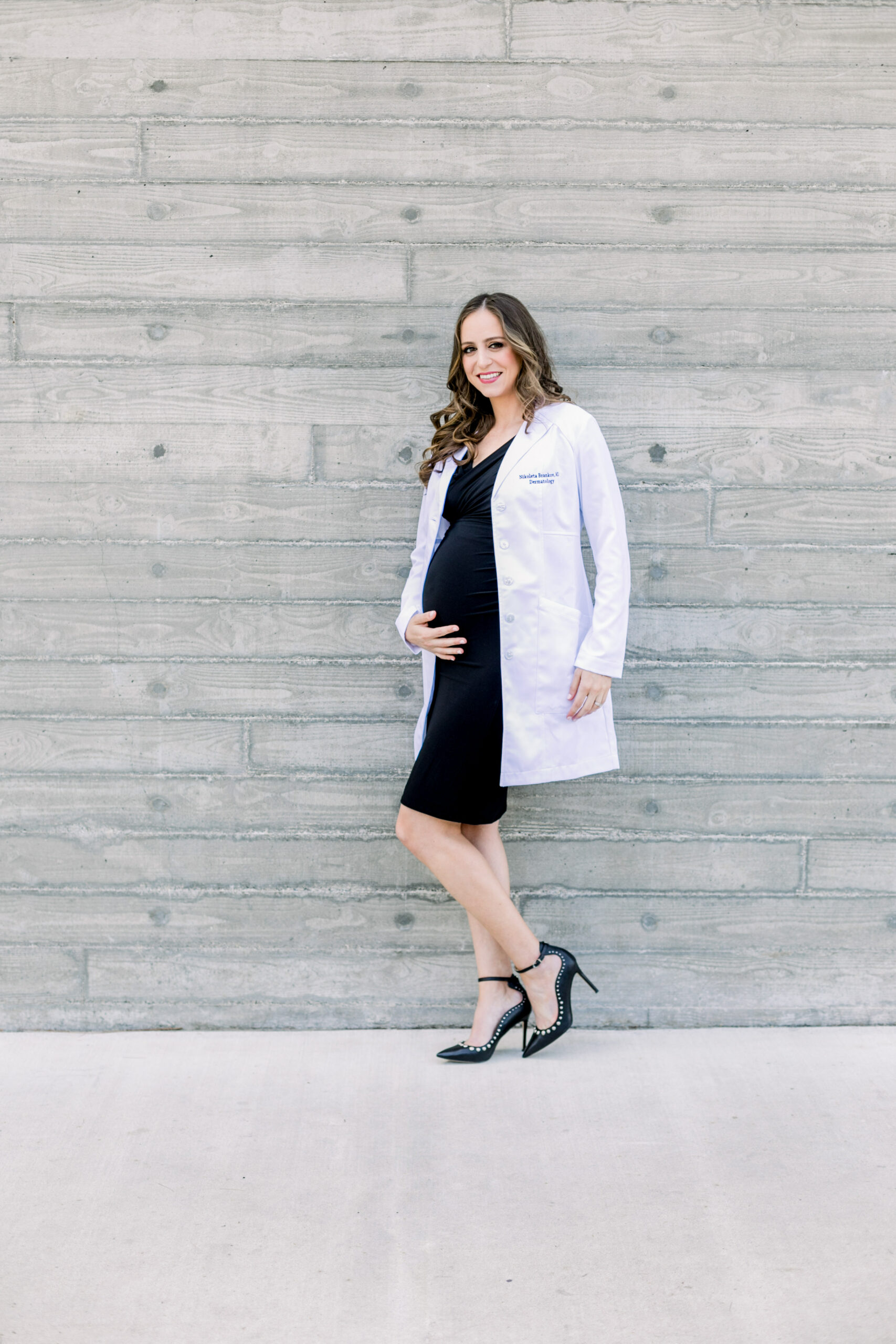 Challenges, Changes, and Coping Mechanisms 
The best part of a challenge is what you learn from it. As a new entrepreneur, Lara faced many of those challenges, but she overcame them by maintaining her drive for the end goal, even when it was scary! She shared some key things that she does when faced with challenges and changes in her company. 
The first hurdle came when she launched her first lab coats, which were 100% cotton. The fabric at the sleeve hems frayed, and the buttons fell off if they were pulled too much. But Lara just decided to roll with the punches and make the changes she needed to make, realizing that regrets were part of the process. 
When I asked her what she would change if she could do it again, she answered that she would have had less hesitation to move forward with change within the company: 
"I think as a new entrepreneur … you get comfortable and secure. You develop relationships, and there's likability, but this business is constantly changing. From the point that we started in 2008 until now, how we sell, how we market, how we manufacture, how we import, how we do accounting — every single thing is constantly changing, and it has to be okay that the people and the expertise [are] changing along with that." – Lara Francisco, PA-C 
It's so critical to be able to adapt and adjust to an ever-changing business landscape, especially now in the world of digital marketing and social media. That takes courage! Lara had to trust that her overall purpose wouldn't change, even when things in her business were constantly evolving. 
One thing that Lara does to stay grounded when things get chaotic is to distance herself from her work environment for a little while and spend time with her kids. This helps her gain perspective when she feels overwhelmed, daunted, or behind. It's so important to have practices like this to help get away from the hustle for a little bit. (In fact, this is one of the six things that high achievers do to succeed! You can check that out more here on my MD Minute episode, "How High Achievers Plan Their Day.") 
Another thing that Lara does to stay grounded in the changing environment of the business and medical worlds is to focus on controlling her emotions: 
"I always think about managing my emotions. I was born an emotional person, and I think as a leader and then as an entrepreneur and founder, you have to keep that in check. So I always think about that every day and work on that." – Lara Francisco, PA-C 
Making time for her family and making sure to not respond to her work emotionally helped Lara create her incredibly successful company. If you aren't familiar with Medelita, you're probably wondering about what makes it so special! Lara shared her favorite things about what her company has to offer.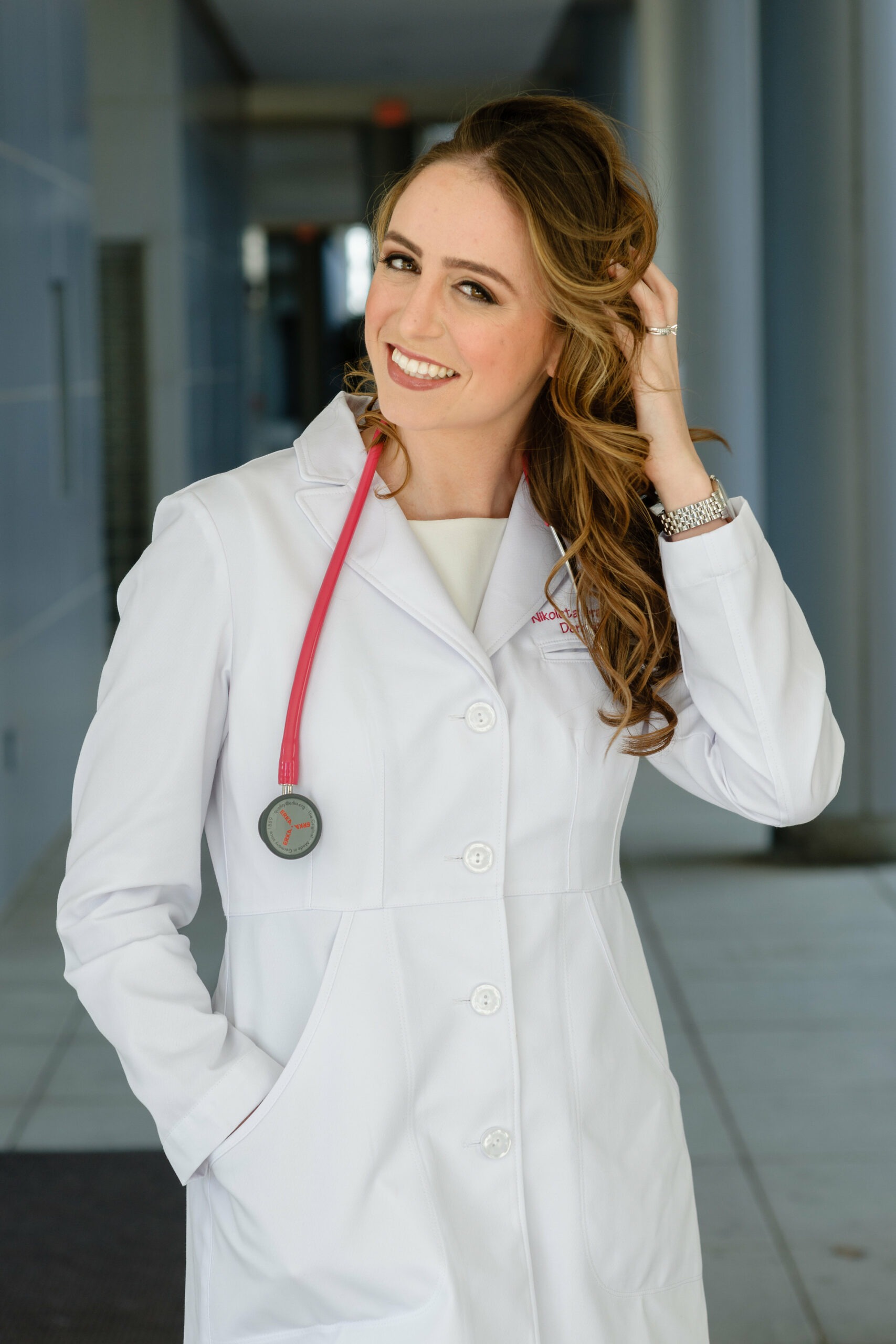 Medelita Magic: A Company with a Special Purpose 
When Lara first founded Medelita, the goal was to create the first-ever lab coat tailored to the feminine healthcare worker. But now, the company has long since surpassed that initial feat. Today, it's all about the fabric as well as fashion, and the company has expanded its service to men too! After four years of testing and innovation, Medelita has designed a fabric that is perfect for its purpose: 
"It's a first-of-its-kind performance blend, mainly because it's dual function. The inside is moisture-wicking and bacteriostatic. And the outside face of the fabric is fluid, soil, and stain-resistant. So the inside does something totally different than the outside. … I believe that that's the right combination for our wear, and it took a really long time to make that happen, but I did it." – Lara Francisco, PA-C 
As the proud owner of a Medelita lab coat and an ambassador of the brand, I can tell you first hand that it's the only coat that I don't sweat in. It's also so lightweight, which is a huge plus. Another awesome thing about Medelita is its professional styling. 
Even though it takes as long as 40 minutes on a machine to embroider a logo, the output is worth it. When you think about it, healthcare professionals wear their diploma to work in a sense. Having that specific logo embroidered on a lab coat is beautiful, and it is an important aspect of the personalization Medelita strives to create: 
"I think that [professional styling] is what differentiates us. … People appreciate a tailored look that is highly professional and fits well. We always say that 'Your lab coat is your suit.' Any other profession with that level of schooling would wear a very nice suit. And this is your opportunity to make that statement to your colleagues and to your patients." – Lara Francisco, PA-C
The embroidery that Medelita creates is truly artwork, and it gives people a sense of individuality in their fashion that could not be found for females in the medical field in the past. Lara and her company disrupted the medical apparel industry in the best way possible, and Medelita continues to surprise people with new products, even better than before.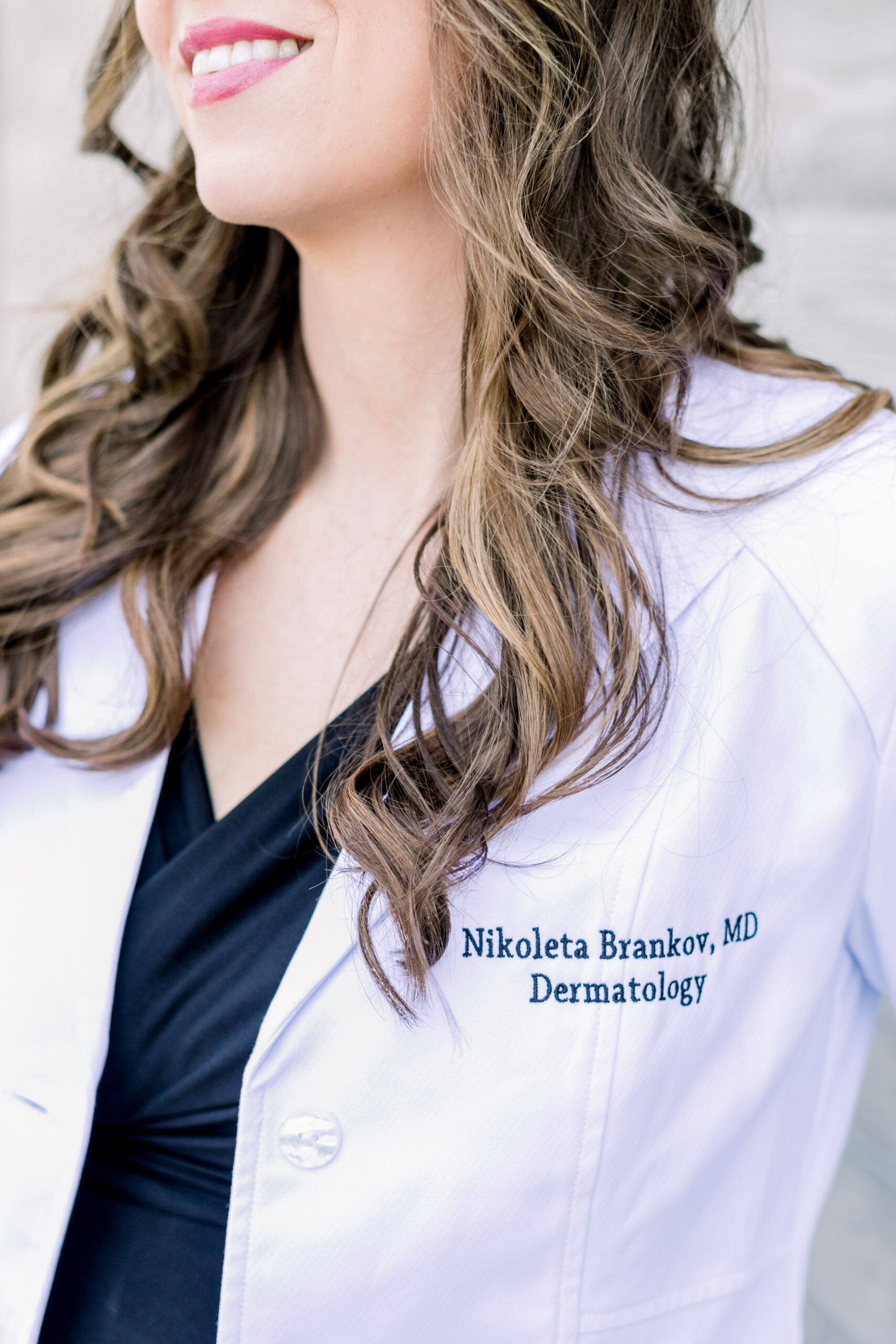 Step Out with Confidence® with Lara Francisco, PA-C 
It was such an honor to hear Lara's story today, and I want to acknowledge her for sharing her inspiration with us. She is a testament to the fact that you do not have to limit yourself to one thing. Instead, you can do anything that you set your mind to, even if that's having another job outside of medicine! Lara and I are both healthcare workers as well as entrepreneurs, and you can do that too if that is your passion!
Lara shared a final piece of incredible advice for anyone who has a dream: 
"If you believe so strongly in something and it sticks with you and it keeps coming up over and over again in different formats and planting a seed in different ways, do something about it. Go for it — seek endless resources to help you achieve that concept or that dream or that business thought that you have. And if I can do it, anybody can do it." – Lara Francisco, PA-C
If you want to learn more about Lara and her company, check out Medelita's professionally modern website. And you can find Lara on Instagram, @medelita.founder, and on Facebook (where you'll see a familiar face)! As an ambassador of the brand, I had the pleasure of doing a social media takeover of Medelita's Instagram account, so make sure to check that out as well!
If you're thinking of getting your own Medelita coat, Lara and I have a special offer for you! Use the code DRNIKOLETAW20 at checkout to receive 20% off your order! Trust me — you're going to want to give yourself one of these comfortable, stylish coats!
If you enjoyed this interview and learned something new, tag Lara, @medelita.founder, and me, @drnikoleta, on Instagram with a screenshot of the episode and your greatest takeaways! And if you enjoy the Millennial Doc podcast, it would also mean so much to me if you could give it a five-star rating on Apple Podcasts so we can spread the word! 
I hope this conversation helped motivate you to chase your passion and showed you that you are not limited to one thing! Tribe, you can do anything you set your mind to. 
I'm so grateful for all of you. As always, Step Out with Confidence® and go rock your life!

***
Disclaimer: The Millennial Doc® Podcast is advertising/marketing material. It is not medical advice. Please consult with your doctor on these topics. Copyright Dr. Nikoleta 2019.