Hello, tribe! I am SO excited for today's podcast episode! But before we get into that, I want to share some super exciting news with you:
The Millenial Doc podcast is getting a total rebrand, and best of all, we're changing our name! The podcast will be called The Dr. Nikoleta Show, but my mission has not changed one bit! I will continue to inspire confidence and help women step into their most empowered, healthy, and glowing versions of themselves. I want to help you make a mindset shift to love your skin even more than you do now and show up face-first in your life and business.
If you love the show right now, you're going to love where I'm taking it. Not only will I continue to bring the whole truth on skincare trends and myths, but I'll also be giving you more tips on how to Step Out with Confidence® in every aspect of your life! I cannot wait to get your feedback and bring you along with me on the ride. 
Now — let's go back to the topic of this episode! 
Recently, I had the exciting opportunity to speak at the Pitch Club Virtual Summit. I was surrounded by health and wellness experts, mindset and career coaches, business strategists, and entrepreneurial experts. In the virtual summit, I covered how to break the cycle of skin coverup, the three Cs to clear skin, why you should love the skin you're in, and so much more! I'm so excited to share this session with you all today, so let's dive in! 
Why Should You Love the Skin You're In?
Recently, there's been a resurgence of the self-care movement, which encourages body positivity, and I could not love it more! I believe that this movement should include skincare positivity as well, and it all starts with a mindset shift. 
When you wake up in the morning, look at yourself in the mirror — whatever state your skin is in, be grateful! Be thankful! And at the same time, know that with consistency, clarity, and confidence (the three Cs to healthy skin), you'll achieve the skin of your dreams! This is about progress — not perfection. Even if you wake up to new blemishes, don't be discouraged — this happens to all of us, but with the right products and skincare routines, we can all have glowing, radiant skin! 
Now, I love makeup, and you should absolutely love how your skin looks with makeup on! But at the same time, know that confidence comes from the inside — your face is glowing because your heart is glowing! You don't have to cover up your skin, tribe! Instead, love it! Embrace it! And let your skincare routine make it shine! 
What Is Mindful Skincare? 
You may have heard me using the term "mindful skincare" a lot recently, but what does it mean? I got the opportunity to explain this term in detail during the virtual summit.
Essentially, mindful skincare is a skincare routine that sticks to healthy, dermatologist-recommended products and uses them consistently and appropriately. The only way to create a mindful skincare routine is to educate yourself on your skin type, any skin conditions you may have, the science behind skincare, and what products you should use in your skincare routine. That's what I aim to help you all with through this podcast! 
Here's what a mindful skincare routine does NOT look like — skincare products all over your bathroom counter, inconsistent application, trying a product for a couple of days and then ditching it, leaving your makeup on before you go to sleep, etc. 
Remember the three Cs to healthy skin? They are 1) consistency 2) clarity and 3) confidence. A mindful skincare routine contains all those three things, and they're more than possible for you to achieve!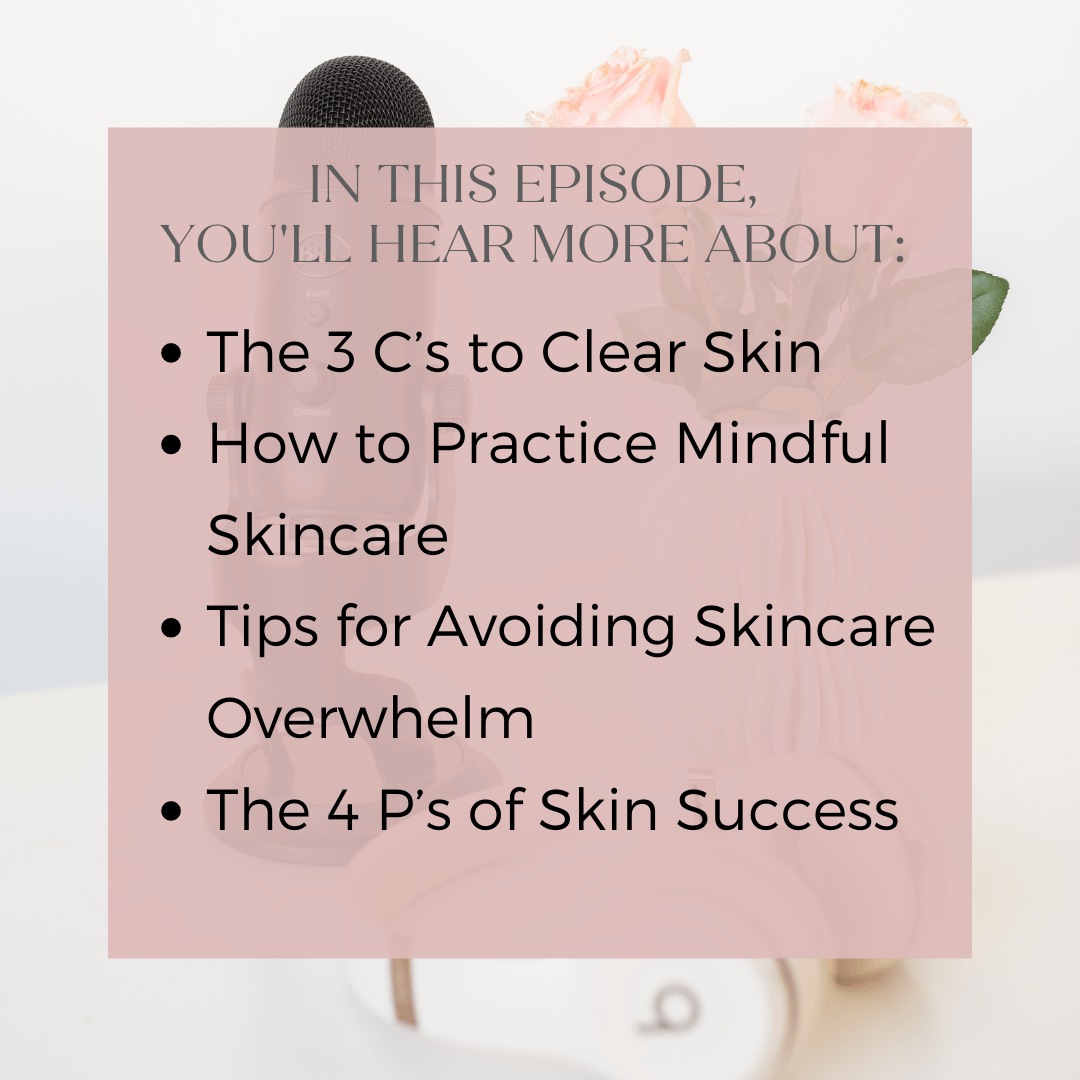 How Do You Avoid Skincare Clutter and Overwhelm?
Maybe you're thinking to yourself, "Mindful skincare sounds amazing, but how do I avoid the skincare clutter and overwhelm that comes with my crazy schedule?" Here are some of my top tips for avoiding skincare chaos: 
#1: Get Rid of Expired Products: You know those products in the back of your cabinets and drawers that have been there since 2015? Yup — it's time to get rid of those. Holding onto old skincare products just takes up room and makes things confusing.
#2: Get Rid of Products You're Not Using: Maybe you bought some moisturizer that a friend recommended, but it caused some irritation on your skin. You're not using it anymore, but it's still sitting on your bathroom counter. Then, the next time you apply moisturizer, you accidentally apply the one that irritates your skin. Chaos turns into confusion, and confusion turns into an ineffective skincare routine.   
#3: Limit Your Product Choices: I believe that a skincare routine succeeds when it is simple and consistent. When you have too many products to choose from, it's too easy to mix and match across the week, meaning that your skincare routine is anything but simple and consistent. Therefore, you're not taking any action with a product or ingredient that will show results over time. 
#4: Stick to the Skincare Success Framework: If you need a refresher on this, listen to Episode #25 or read the blog post! There are certain products, such as cleansers, sunscreen, and moisturizers, that you should use every single day. You do NOT need a seven-step framework for skincare success. Keep it simple, and watch your skin shine! 
How Do You Know When to STOP a Skincare Routine Due to Breakouts?
This is a great question! However, the answer isn't as simple as you might think. 
It depends on what kind of breakout you are having. Are you breaking out into acne bumps? Or are you breaking out into dermatitis, which is more of an itchy, flaky rash? If you're breaking out into dermatitis, then it could be the cause of an allergic reaction, so you may need to immediately stop using the product. 
But in general, when it comes to acne, sometimes these breakouts stop after consistent use. For instance, with a retinoid, you need to give it a minimum of six weeks to see its benefit. If you're ever unsure what's causing the reaction or breakout, don't hesitate to schedule an appointment with your dermatologist — they can provide you with the guidance you need either to continue product use or find a product that's right for you.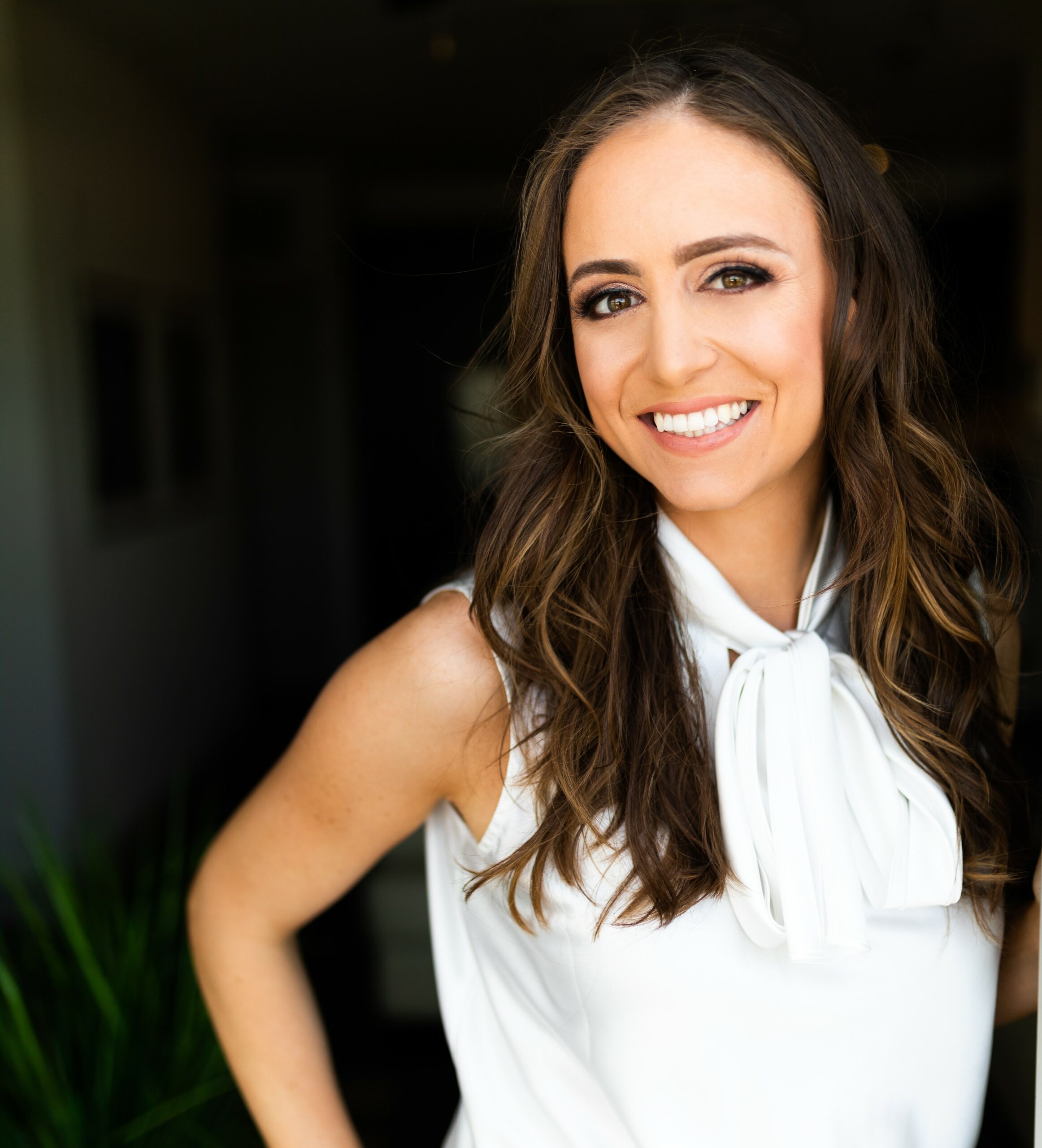 How Do I Help Women Step Out with Confidence®?
I've been using this phrase from the very beginning of my brand, and I plan to continue using it after the update! 
Back in medical school, I struggled with confidence. I had to interview twice to get into dermatology, which is one of the most competitive specialties in medicine. I had low self-esteem and was not confident in my ability to succeed. My second time around, I worked really hard on personal development and made sure that my body was receiving the care it needed. This focus on health and self-care helped me Step Out with Confidence® and embrace who I truly was. (If you want to learn more about my story, listen to Episode #00 or read the blog post!) 
This was the inspiration behind the phrase Step Out with Confidence®, and I help women do just that through the four Ps of skincare. 
#1: Preparation
Preparation starts with mindset work to truly get to know and love your skin. It includes understanding the science behind skincare as well as the importance of it! 
#2: Product
It's extremely important to understand what types of products to use for your skin type and any skin conditions you may have. What ingredients should you look for in a moisturizer? What cleansers or scrubs do you need to avoid? These are all questions that belong in this stage of skincare success! 
#3: Practices
There are tons of skincare myths out there — and some of them will even damage your skin! In order to have the skin of your dreams, you must have the right practices in place to see improvement! In addition, it's important to create a simple, everyday skincare routine to implement these practices regularly.
#4: Progress 
Remember, the right practices once a week won't give you the success you deserve. It takes patient progress to see results! And if you're struggling with your progress, it's never too late to schedule an appointment with your dermatologist — they can perform in-office procedures to help with more serious issues such as scarring or rosacea! 
Tribe, Get Excited for The Dr. Nikoleta Show!
I am so passionate about mindful skincare and sharing my knowledge with this wonderful community. I was honored to be a part of the Pitch Club Virtual Summit, and I hope to be a part of more summits in the future!
As a part of my brand refresh, I'm launching a new course to help you Step Out with Confidence® and achieve the skin of your dreams! To receive exclusive access to this course and get on the VIP list, sign up here! 
And to finalize the rebrand, I'll be taking a short two to three-week break from podcasts until the new website launch! I'll miss you all, but I promise I'll be back soon! 
If you enjoyed this episode, be sure to let me know on Instagram! You can tag me, @drnikoleta, with a screenshot of the episode and your greatest takeaways. I'd also really appreciate it if you would subscribe and leave a five-star rating on Apple Podcasts — that helps us share the podcast with wonderful people like you who deserve the skin of their dreams! 
Lastly, if you want to get connected in this mindful skincare space, check out the podcast Facebook Community! This is an exclusive group of like-minded individuals who prioritize skincare, self-care, and healthcare — we'd love to have you join us!
Until next time, Step Out with Confidence®, and get ready for The Dr. Nikoleta Show! It's going to be a blast.