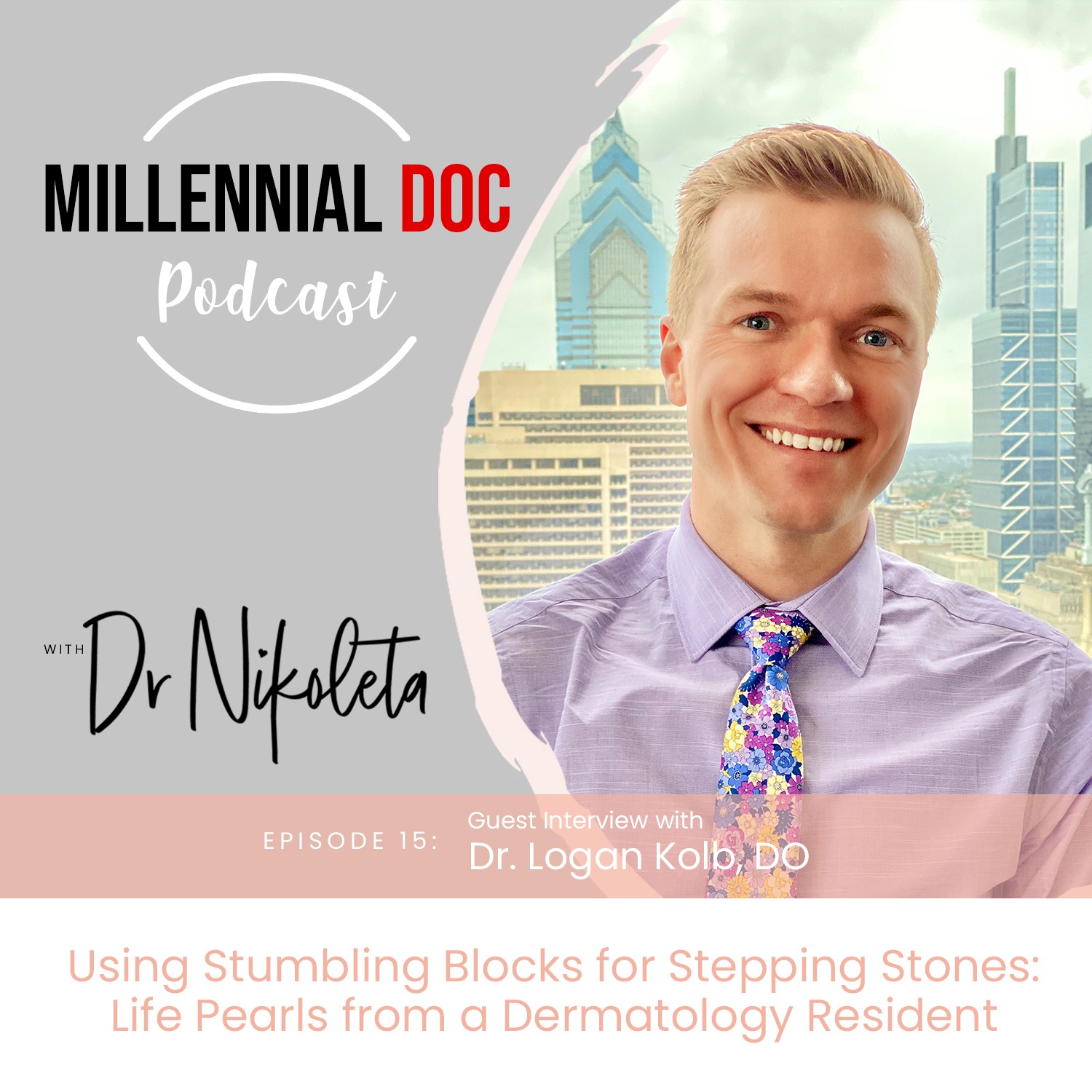 If you're a healthcare professional, it's safe to say that you've probably experienced a fair amount of struggle in your career. Whether it's COVID-19, taking the MCAT, or finding the right practice, there will always be stumbling blocks along the way. 
If you've been following the Millennial Doc podcast since the beginning, then you know my own story — it was not an easy road to become a dermatologist. My academic career was full of challenges, including taking the MCAT several times, not matching into dermatology the first time, and the overall stress of being a medical student. But I wouldn't trade all of those hardships for the world because I know that they made me the confident woman I am today! 
For this episode, my guest is a fellow dermatologist who's also been through his fair share of stumbling blocks but has used them as stepping stones. Dr. Logan Kolb is a PGY-4 dermatology resident at Orange Park Medical Center in Jacksonville, FL, and he's also the host of the Grenz Zone podcast, which teaches dermatology in a fun and interactive way for dermatology providers. 
In our interview, Dr. Logan gave so much wisdom for those who are pursuing medical school and are interested in learning more about dermatology. This episode has so many practical tips and pieces of advice, so get a pen and paper ready because you're going to want to take notes! 
Who Is Dr. Logan Kolb, DO? 
Dr. Logan Kolb, DO is a PGY-4 dermatology resident at Orange Park Medical Center in Jacksonville, FL. He is originally from Plainview, MN, and he completed medical school at Des Moines University College of Osteopathic Medicine. Dr. Logan is currently in his final year of dermatology residency at Orange Park Medical Center, and he's extremely passionate about medical education and mentorship within the field of dermatology. 
In addition to his medical career, Dr. Logan hosts the Grenz Zone podcast, which teaches a practical approach to dermatology in a fun and interactive way to dermatology providers. Each episode contains amazing advice, including the essential questions we need to ask our patients, physical exam results to look out for, as well as workup and treatment options for common dermatology disorders. Whether you're new to dermatology or experienced in the field, each episode is full of great teaching points for us all! 
To wind down from work, Dr. Logan loves playing the guitar and the ukulele (similar to my husband, Eddy!), and he actually played in a band when he was in undergrad. One of his proudest moments was when he recorded a couple of albums with his college band!
I was honored to have Dr. Logan on the Millennial Doc podcast to share some of his best advice for healthcare professionals. Without further ado, let's get started! 
Why Dr. Logan Kolb Decided to Pursue Dermatology 
Dr. Logan decided that he wanted to become a physician after working some summers at Mayo Clinic as a patient service representative during undergrad at the University of Wisconsin-La Crosse. 
"At that point, I knew I loved science and math … I thought I'd end up in healthcare somewhere, but I really didn't even have my eyes on med school because I didn't really know any doctors or anyone close to that … I didn't have any doctors in the family. And I just remember one of the docs there told me, 'You should really think about med school. You seem to really enjoy talking to patients…' so I'm like, 'Sure, why not?' I decided to apply to med school, and I got into DMU." – Dr. Logan Kolb, DO 
For a while, Dr. Logan thought he would become a cardiologist after working in research at the ER at Mayo Clinic. But after experiencing third-year clinicals and seeing a patient crash in front of him, he decided that the ER wasn't the right route for him. That's when he discovered his passion for dermatology: 
"It was on my family practice rotation that I just really started connecting a lot with the patients that have skin issues because I've really dealt with them a long time. I've had psoriasis since I was a kid and atopic dermatitis. So that's a lot of fun when you're growing up in the Midwest, and it's cold in the winter, and it's dry. My skin has always been a struggle, so I felt like I really connected with patients more on that end." – Dr. Logan Kolb, DO
Because of his own skin conditions, Dr. Logan found that he could relate to patients on a deeper and more personal level. This was the first stumbling block that turned into a stepping stone. Then he started shadowing dermatologists to learn about the discipline and got matched into dermatology — and he learned key pieces of advice for anyone looking to pursue medicine during the process! 
The Best Advice for Anyone Pursuing a Career in Healthcare 
During our interview, Dr. Logan gave some really great advice he learned from medical school that I'd love to pass on to you! If you're experiencing setbacks in your medical career or hardships, this one piece of advice will pull you out of that rut and get you back on track: Find a mentor. 
When Dr. Logan decided to pursue dermatology, he knew that he had to find a mentor to help him. Why? Because dermatology is one of the most competitive disciplines in medicine. It's not easy to be accepted into a program, and if you don't seek counsel from others, it's easy to get left behind: 
"What advice I would give to people is definitely to find a mentor in whatever you want to do. If you are applying to medical school, find someone at your college who's in the pre-med club who can kind of help you with the application. If you're already in medical school and you want to do a certain specialty, find somebody who's already been there and don't be afraid to reach out to people." – Dr. Logan Kolb, DO
A mentorship isn't just one conversation — it's a nurtured relationship. The good news is that there are so many great people out there who love to mentor those with less experience. Dr. Logan is one of those people! 
"It's hard to ask for help. You don't want to be a burden on anybody, but people are so happy to do it. And now that I'm in these shoes, I love talking to medical students who are rotating and auditioning and giving them advice. People are happy to pay it forward. So that'd be my biggest advice — find a mentor." – Dr. Logan Kolb, DO
Mentors are invaluable resources, so don't be afraid to ask for help. There are people who would love to help you on your journey because they used to be in your spot. In medical school, Dr. Logan had some great mentors who wrote him recommendation letters, gave him research opportunities, and provided helpful counsel. So today, he loves to pay it forward and help new dermatologists coming up behind him! 
As a physician myself, I always tell students that they shouldn't be afraid to bug me. Yes, I'm definitely busy with studying and doing patient tasks, but I'm never so busy that you can't ask me for help. There is nothing wrong with being ambitious and independent, but when you need help, it's okay to ask for it. Dr. Logan and I are both so thankful for the people who helped us on our journeys, and we'd love to be those people for you as well!
ALL ABOUT THE
 

GRENZ ZONE

 

PODCAST WITH DR. LOGAN KOLB 

If you're looking for some additional information, advice, and tips about practicing dermatology, then look no further than the Grenz Zone podcast! Dr. Logan gives so much useful information about dermatology disorders, treating patients, and being the best dermatologist you can be. I asked him what inspired the podcast, and this was his answer:
"I got to the point when I started auditioning, and dermatology is like this monster. Where do you start with rashes and all this stuff? … So I looked to see what podcasts were out there, and there is Dermcast TV [and] they have some really great podcasts out there, but it was a little over my head. … It was in that moment where I was like, 'Man, I really wish there was one [podcast] just dedicated to derm and someone in my shoes.' So that's when the idea was born to do my own." – Dr. Logan Kolb, DO
I love that Dr. Logan saw a need, and instead of moving on, he decided to fill that need. The Grenz Zone podcast includes interviews with medical professionals where they'll look at a rash or skin reaction and start diagnosing the issue in simple, easy-to-follow steps: 
"Each episode follows a similar format where it starts with reviewing those reaction patterns. The repetition kind of burns that into your brain, and then [we talk] about whatever rash it might be. I also really try to do my best to make sure I have a good differential diagnosis — different things that look similar. … And what I really try to focus the content on is what's going to help you at the bedside or what's going to help you in the hospital." – Dr. Logan Kolb, DO 
Dr. Logan breaks down complex concepts into simple steps, making it so easy for medical students to take those concepts and apply them to the healthcare workspace. He's even had messages from PAs, nurses, and people in primary care who reach out and let him know how helpful the episodes are! 
Even if you're not interested in dermatology, definitely go and check out this podcast — I promise that you'll learn something new!
STEP OUT WITH CONFIDENCE® WITH DR. LOGAN KOLB, DO
This interview with Dr. Logan was so interesting and encouraging. To all you medical students out there, know that you can do this! Yes, it's definitely hard, and there will be days when you feel like quitting, but you won't. Why? Because you have what it takes! These stumbling blocks you're facing can be turned into stepping stones.
To end the episode, I asked Dr. Logan what his definition of an exceptional life in the field of medicine is:
"I think it's balanced. You have to be able to give it your all at work and take the best care of patients that you can. But sometimes when you're able to leave … turn off as much as you can and still give it your all at home with your significant others, your kids, [and] whoever is at home with you. And just finding that balance between the two I think makes [an] exceptional life." – Dr. Logan Kolb, DO
It can be difficult to find that balance, but I do believe that if you intentionally aim for it, you'll achieve it!
I'm so grateful for Dr. Logan coming on the Millennial Doc podcast and for sharing his wisdom with us. If you want to hear more from Dr. Logan, definitely check out the Grenz Zone podcast, and check out his Facebook page for more resources! If you enjoyed this interview, tag Dr. Logan, @dermpodast, and me, @drnikoleta, with a screenshot of the episode and your greatest takeaways! We would love to hear how this message inspired you to Step Out with Confidence®! And if you enjoy the Millennial Doc podcast, please leave a five-star review over on Apple Podcasts!
Friends, don't let the fear of failure keep you from your dream career. Resist the temptation to compare yourself to others. Let go of the expectation to be perfect. As Dr. Logan's favorite country singer, Jerry Jeff Walker, says, "Use your stumbling blocks for stepping stones." 
Don't let setbacks defeat you — use them as catalysts for growth! I love you all!

***
Disclaimer: The Millennial Doc® Podcast is advertising/marketing material. It is not medical advice. Please consult with your doctor on these topics. Copyright Dr. Nikoleta 2019.