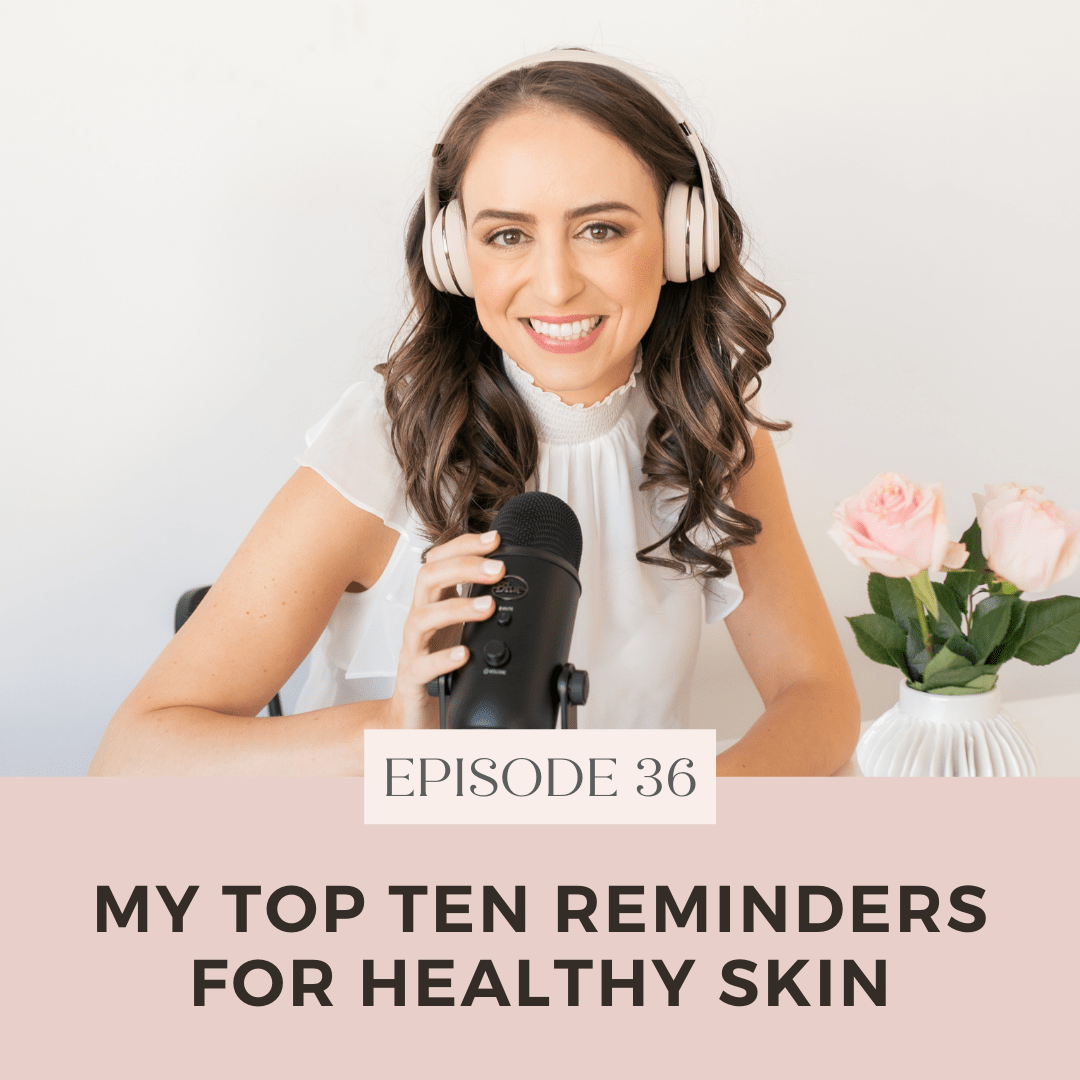 Hello, tribe! I'm so thankful you're here today — it means that you're one step closer to having beautiful, glowing skin in 2021 and beyond! 
Did you make any New Year's resolutions about skincare? If so, are you keeping up with them? Most New Year's resolutions start to fade after February, but they don't have to! Even if you haven't kept up with your skincare success regimen, it's never too late to start over. Tribe, you deserve to have healthy, glowing skin, and all it takes is the right education and products to get you there! 
I, for one, am so excited to be the one guiding you through your skincare success journey! It's the highlight of my day to create these episodes for you all, and I love getting to share my knowledge with this wonderful community.
In today's episode, we'll be diving into my top ten go-to reminders to help you stay consistent with your skincare routine and see results! These reminders will not only keep your skin healthy, but they'll also reverse aging and sun damage! You deserve to have the skin of your dreams, so let's get started! 
Skincare Reminder #1: Wash Your Face Daily
There may be some busy days or weeks where it's hard to wash your face consistently, but ideally, you should wash your face twice a day — especially after a sweaty workout. It's essential to get that sweat off your face as soon as possible. 
I start off my day by washing my face in the morning, which helps remove dirt and bacteria that's accumulated on my face while sleeping. Then at night, I wash my face again to remove my makeup as well as any dirt and bacteria. 
The best way to wash your face is with a gentle cleanser! If you're not sure what type of cleanser is best for you, refer back to Episode #26 or read the blog to learn what type of product you should use depending on your skin type. 
Skincare Reminder #2: Do NOT Sleep with Makeup On
This reminder goes hand-in-hand with #1! If you wash your face every day at night, then you shouldn't have to worry about going to sleep with makeup on. 
But maybe you don't want to wash your face because you've gotten your makeup done, and it just looks SO good. Or perhaps you're just really tired, and you want to go to bed as soon as possible. I definitely understand not wanting to wash your makeup off sometimes, but if you don't, you have to understand that you're doing your skin a disservice. Makeup is not meant to stay on your skin for over 24 hours — it can irritate your eyes, clog your pores, and even cause acne. 
So, no matter how good your makeup looks or how tired you are, please wash it off every night! Your skin will thank you! 
Skincare Reminder #3: Use Gentle Cleansers with Lukewarm Water 
Instead of using a harsh, physical exfoliator that will damage your skin, opt for a gentle cleanser with lukewarm water and use your fingers to gently rub it into the skin. Your skin needs time to heal, so if you're constantly using a physical exfoliator, you're preventing your skin from healing properly. 
Here are some of my favorite gentle cleansers (again, check out Episode #26 to find the cleanser that best suits your skin type). 
Skincare Reminder #4: A Low-Glycemic Index Diet Helps with Acne
I'll be discussing this in more detail in an upcoming episode, but for now, know that a diet containing mostly fresh vegetables, fruits, beans, and steel-cut oats, can really help with reducing acne. 
For more tips on how to prevent and reduce acne, check out Episode #29 or read the blog to learn about the top mistakes that worsen acne. 
Skincare Reminder #5: Do NOT Pop Pimples at Home
In Episode #29, I discussed this in more detail, but essentially, popping your pimples can lead to permanent acne scars, more noticeable acne, more painful acne, and even infections. If you have severe acne, I would definitely recommend going to your dermatologist for treatment and additional information. There are safe methods to pop pimples, but I do not recommend trying these without instruction from your dermatologist. 
So next time you see a pimple, resist the urge to pop it! You'll be surprised how they'll usually disappear after a few days — and with no scarring left behind!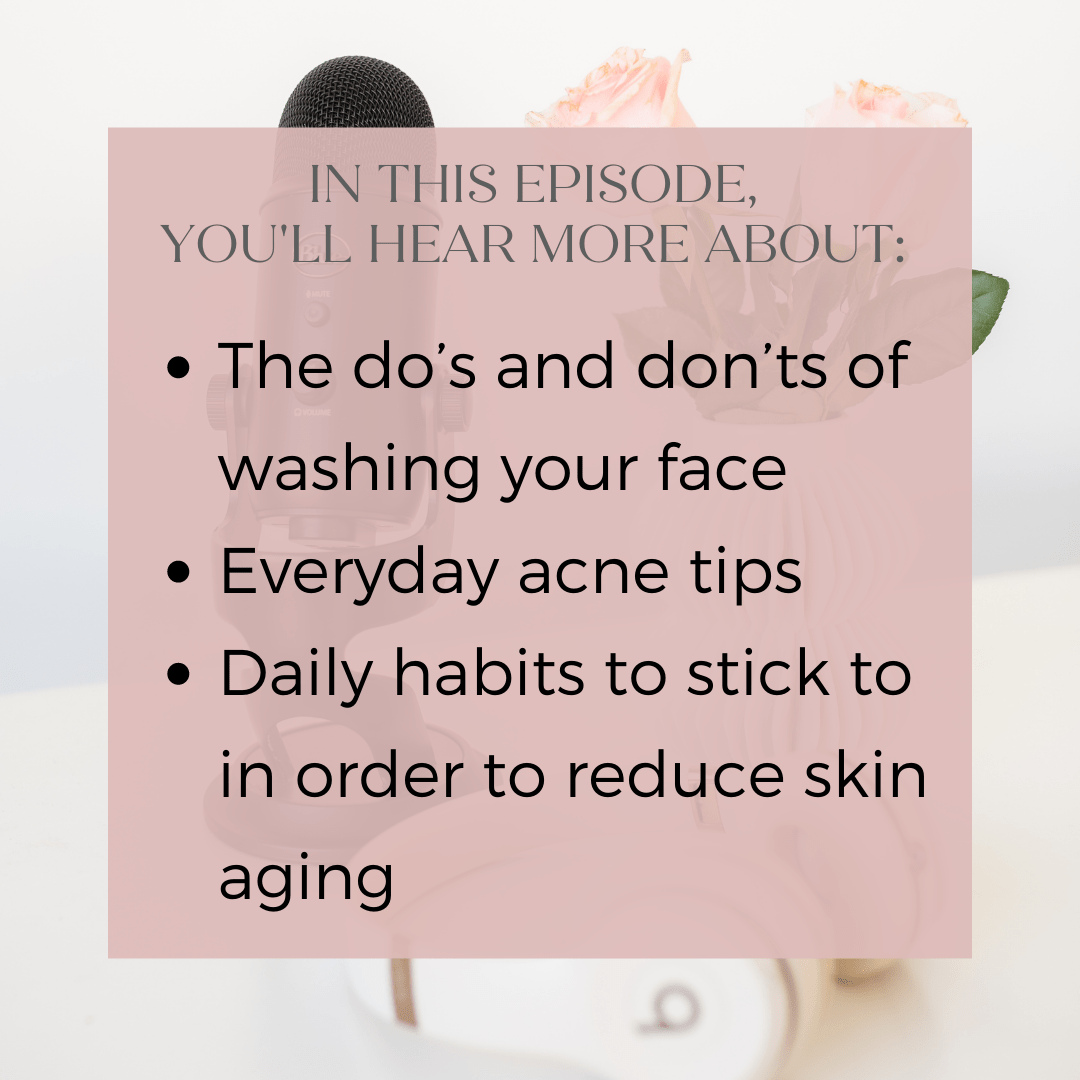 Skincare Reminder #6: Do NOT Try to Tan
Sun damage leads to premature aging, which means we need to do everything in our power to avoid those harmful UV rays from the sun. People often want to achieve tanned skin in the summer, either by going to the beach or the tanning booth, but this is only causing premature wrinkles, sunspots, and even skin cancer. 
The peak time for sun damage is between 10:00 AM and 2:00 PM, so be sure to wear sunscreen every day — whether you're outside or inside. Remember — a baseline burn does not help protect your skin!
If you really want that sun-kissed glow, there are some great self-tanners out there that will help you achieve that look! 
Skincare Reminder #7: Wear Sunscreen Every Day
I think I mention this in almost every episode, but that's only because it's so important! Even if you're having Zoom meetings all day and it's wintertime, you need to wear sunscreen (at least SPF 30) to prevent UV damage, especially on your face. 
One of my favorite sunscreens is La Roche-Posay Anthelios Clear Skin Dry Touch Sunscreen SPF 60. It won't cause breakouts, and it's completely oil-free! 
Skincare Reminder #8: Apply Sunscreen to Your Neck and the Tops of Your Hands
When you're applying sunscreen to your face, don't forget about your neck and hands! Your neck especially is getting so much sun exposure, and as you age, it will start showing wrinkles. If you consistently apply sunscreen to your neck, you'll decrease the number of wrinkles and keep your skin from sagging prematurely. Your hands also receive a lot of sun, especially if you do a lot of driving, so apply sunscreen there as well. 
Your neck and hands are prone to skin cancer and can age more than your face if you don't take care of them! Tribe, by applying sunscreen every day, you're reversing aging and reducing your risk of cancer. 
Skincare Reminder #9: Don't Smoke
I'm hoping that most of you aren't smokers, but if you are, know that smoking not only increases your risk of fatal lung cancers but also worsens skin conditions that I often see as a dermatologist. Smoking also speeds up aging and keeps skin wounds from healing as fast as they should. 
Skincare Reminder #10: Schedule an Appointment with your Dermatologist for a Yearly Skin Check
Dermatologists are there to help you along your skincare success journey! They're the experts of everything related to your skin, and they have extensive knowledge about skin conditions and how to treat them. 
One of the best ways to make sure your skin is healthy is by having a yearly check-in with your dermatologist. If you notice anything odd on your skin, such as a rash, lesion, or skin growth, definitely schedule an appointment sooner! Board-certified dermatologists know how to help you, and furthermore, we want to help you — you don't have to go through this journey alone!
Stay Consistent So Your Skin Stays Beautiful!
There you have it — my top ten reminders for healthy skin! As long as you follow these reminders, you'll be well on your way to achieving healthier, brighter skin! And what's more, you'll be able to keep your skin glowing as you age! The key here is consistency — you won't see results in just a week! These are practices you have to carry throughout your whole life!
If you need help remembering these tips, I'd encourage you to make a list and put it in the corner of your bathroom mirror (or wherever you do your skincare routine). 
If you enjoyed this episode, be sure to let me know on Instagram! You can tag me, @drnikoleta, with a screenshot of the episode and your greatest takeaways. I'd also really appreciate it if you would subscribe and leave a five-star rating on Apple Podcasts — that helps us share the podcast with wonderful people like you who deserve the skin of their dreams! 
Lastly, if you want to get connected in this mindful skincare space, check out the podcast Facebook Community! This is an exclusive group of like-minded individuals who prioritize skincare, self-care, and healthcare — we'd love to have you join us!
Until next time, continue to strive for greatness and know that I'm here to be a source of confidence that you can lean on! Love your skin and show up confidently so you can shine bright in this world!

***
Disclaimer: The Millennial Doc® Podcast is advertising/marketing material. It is not medical advice. Please consult with your doctor on these topics. Copyright Dr. Nikoleta 2021.