Hello, tribe! I hope you're having a lovely day! I'm so thankful for each and every one of you — and I'm honored to be the one helping you on your journey to skincare success!
Today, we're going to talk about a big issue that frustrates a lot of people (and one I've gotten a lot of questions about) — hyperpigmentation. 
Do you have discolored, dark patches on your skin? You have no idea what they're from, and you don't know how to prevent more from appearing. All you know is that you don't like the way they look and you wish they would just disappear. 
If that's you, know that you aren't alone! Those discolored, dark patches are a result of hyperpigmentation, and many people can have this. You can cover them with makeup, but that doesn't make them disappear. The good news is that you can keep hyperpigmentation from continuing and you can even reverse it by using the right skincare ingredients! 
I've gotten a lot of questions about how to prevent and correct hyperpigmentation, so today, I'm sharing the three pillars of skin protection and remedies you need to stop getting those discolored, dark patches on your face! You can include these ingredients as part of your skin success framework, and they'll not only help with hyperpigmentation but also help with other skin conditions as well.
Without further ado, let's get into the three pillars of how we can kick hyperpigmentation to the curb! 
Hyperpigmentation Pillar #1: Protect Your Skin with Sunscreen 
When people ask me all about hyperpigmentation on the face — whether they have it from eczema or melasma — the number one rule is that no matter what treatment you decide, you have to protect your skin with sunscreen.
Why is this so important? Well, if you don't protect your skin from harmful UV rays, your hyperpigmentation will only worsen, and it will be even more difficult to reverse the effects. This first step is crucial because you are preventing further hyperpigmentation from happening. 
Tribe, this step goes beyond putting on sunscreen at the beach. You need to wear sunscreen 365 days a year, whether you're inside or outside, whether it's sunny or cloudy, and whether it's hot or cold. I know that some of you may think this is overkill, but honestly, any type of sunlight can damage your skin. Sunlight can filter through windows, too, so if you're indoors, you still need to wear sun protection. 
I recommend putting a sticky note on your bathroom mirror (or wherever you get ready for the day) to remind you to apply sunscreen. Make sure to apply a minimum of SPF 30 to your face, neck, arms, and legs each day. And if you spend a lot of time driving, take special care to ensure that the parts of your body that are most exposed to sunlight are adequately covered.
Remember: No treatment for hyperpigmentation is actually complete without adequate sun protection. You cannot skip this step! 
Hyperpigmentation Pillar #2: Choose Skincare Products with Antioxidants 
In addition to applying sunscreen every day, you should also use antioxidants to further protect your skin from hyperpigmentation. I discussed the importance of antioxidants, such as Vitamin C, in my skin success framework episode, so make sure you give that a listen or read the blog to learn more about antioxidants and their healing effects. 
There are several antioxidants you can use on your skin:
Vitamin C (ascorbic acid) 

Ferulic acid 

Green tea

Vitamin E
When you're looking for skincare products, you want to choose ones that contain antioxidants such as these! Vitamin C — also known as ascorbic acid — is my favorite. However, it's a highly unstable molecule. That means that it oxidizes quickly when it's exposed to light, so it's challenging to formulate products that contain Vitamin C. That's why it's so important not to pick up just any product that has "Vitamin C" on the label. You need products that have stable forms of Vitamin C to actually improve your skin. 
One of my absolute favorites is the C E Ferulic® SkinCeuticals Serum, and while it's expensive, it lasts a long time and is SO helpful in preventing hyperpigmentation. Plus, there are so many studies backing up its efficiency! Vichy Peptide C and Revision C+ Correcting Complex are also great options that I recommend to my patients!
Whatever product you chose, here's the bottom line — you need stable antioxidants in your skincare routine!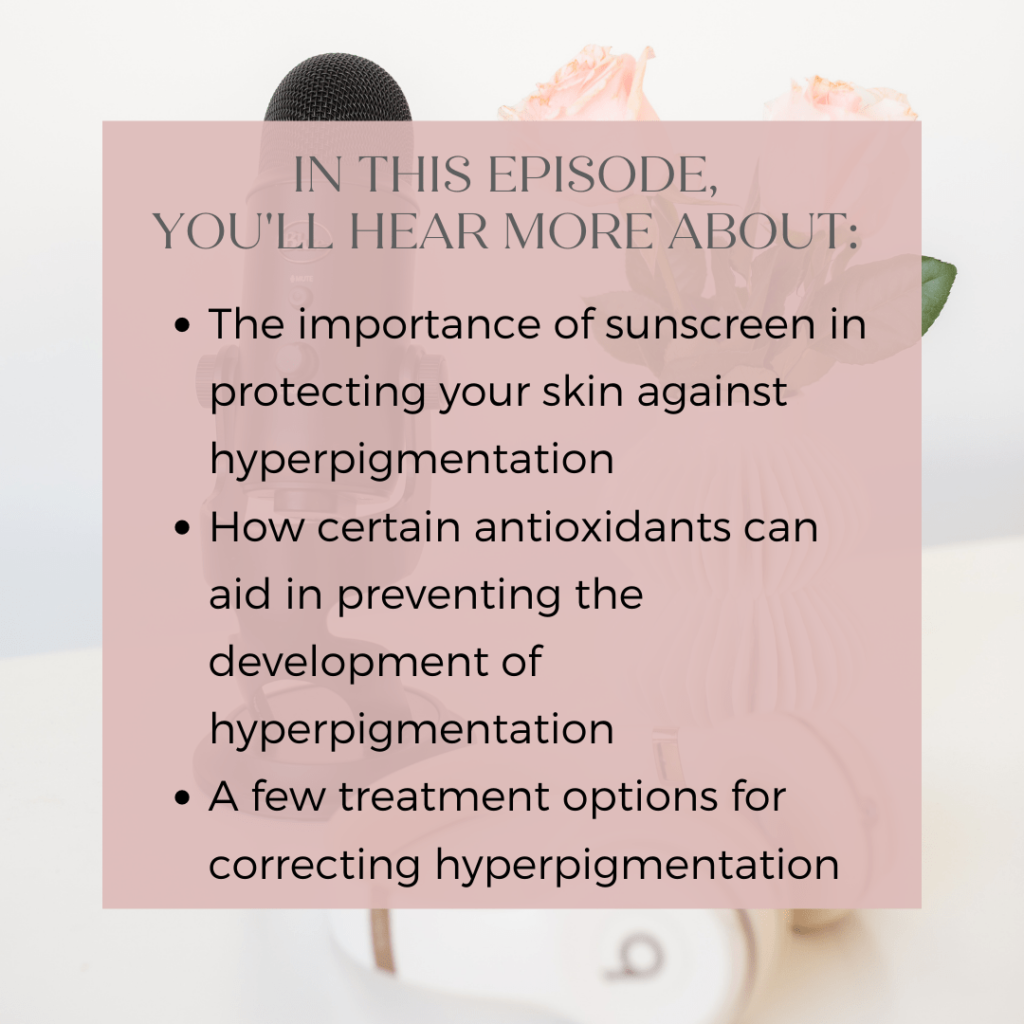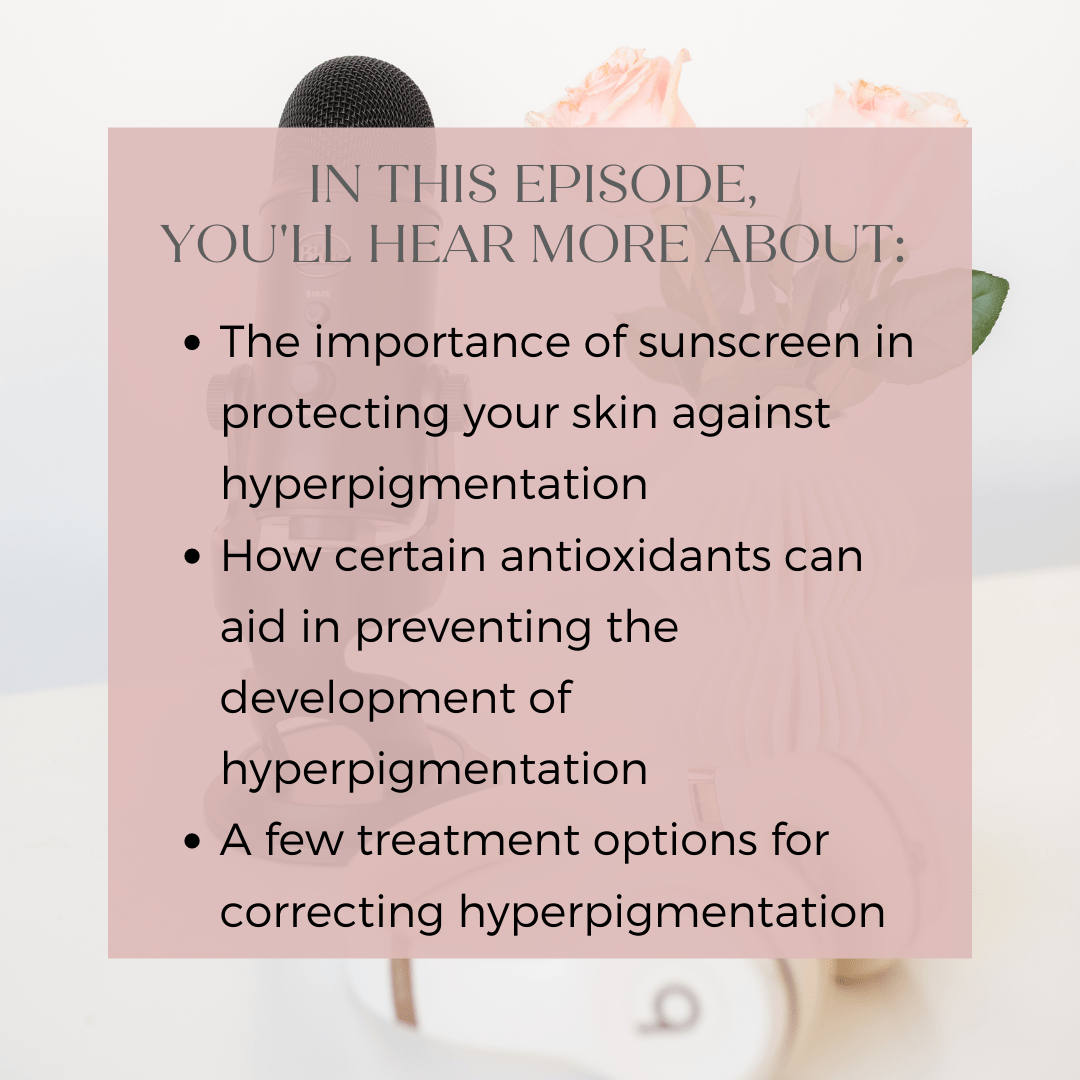 Hyperpigmentation Pillar #3: Pursue Other Skin Treatments to Repair Your Skin
Lastly, let's talk about some skin treatments that can treat hyperpigmentation and prevent it from happening in the future. These treatments can inhibit melanin (pigment) production before, after, and during melanin synthesis (the process by which pigmentation is created). 
Perhaps the most popular of these treatments is hydroquinone, which can lighten dark patches on the skin. However, it isn't as simple as just applying this agent to the skin. The stage of your skin's melanin synthesis determines what treatments you should use and when, and there are many other ingredients you need in conjunction with hydroquinone to achieve the results you want.
All retinoids affect melanin synthesis before it occurs through an enzyme called tyrosinase, which is why I've seen hyperpigmentation improve after the use of a retinoid!  Keep in mind, though — you have to apply them consistently over a period of eight to 12 weeks to start seeing the benefits. 
Hydroquinone is a key ingredient that can inhibit enzyme activity during melanin synthesis. You can get hydroquinone 2% over the counter (look for Ambi Skincare Fade Cream), and as a prescription, you can get 4% or 8%. Kojic acid is another ingredient that is known to reduce hyperpigmentation during melanin synthesis. Again, make sure you consult your dermatologist and ask for their recommendations based on your skin type and skin sensitivity. 
Finally, we have the last step which occurs after melanin synthesis. Niacinamide, a form of Vitamin B3, is the ingredient you want to use in this stage as well as retinoids. It's a great way to treat hyperpigmentation issues after they occur, and it can also help treat acne and diminish wrinkles and lines.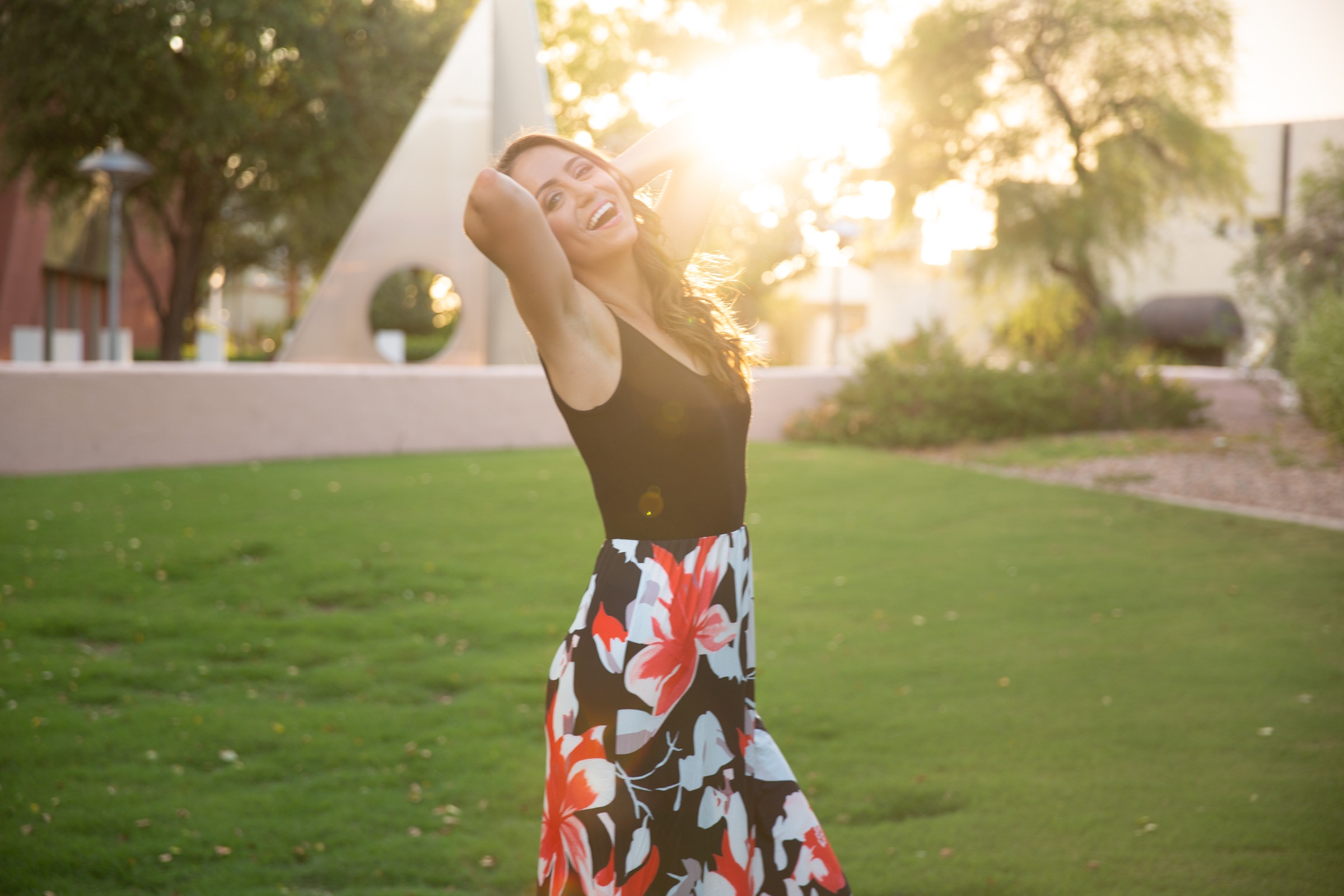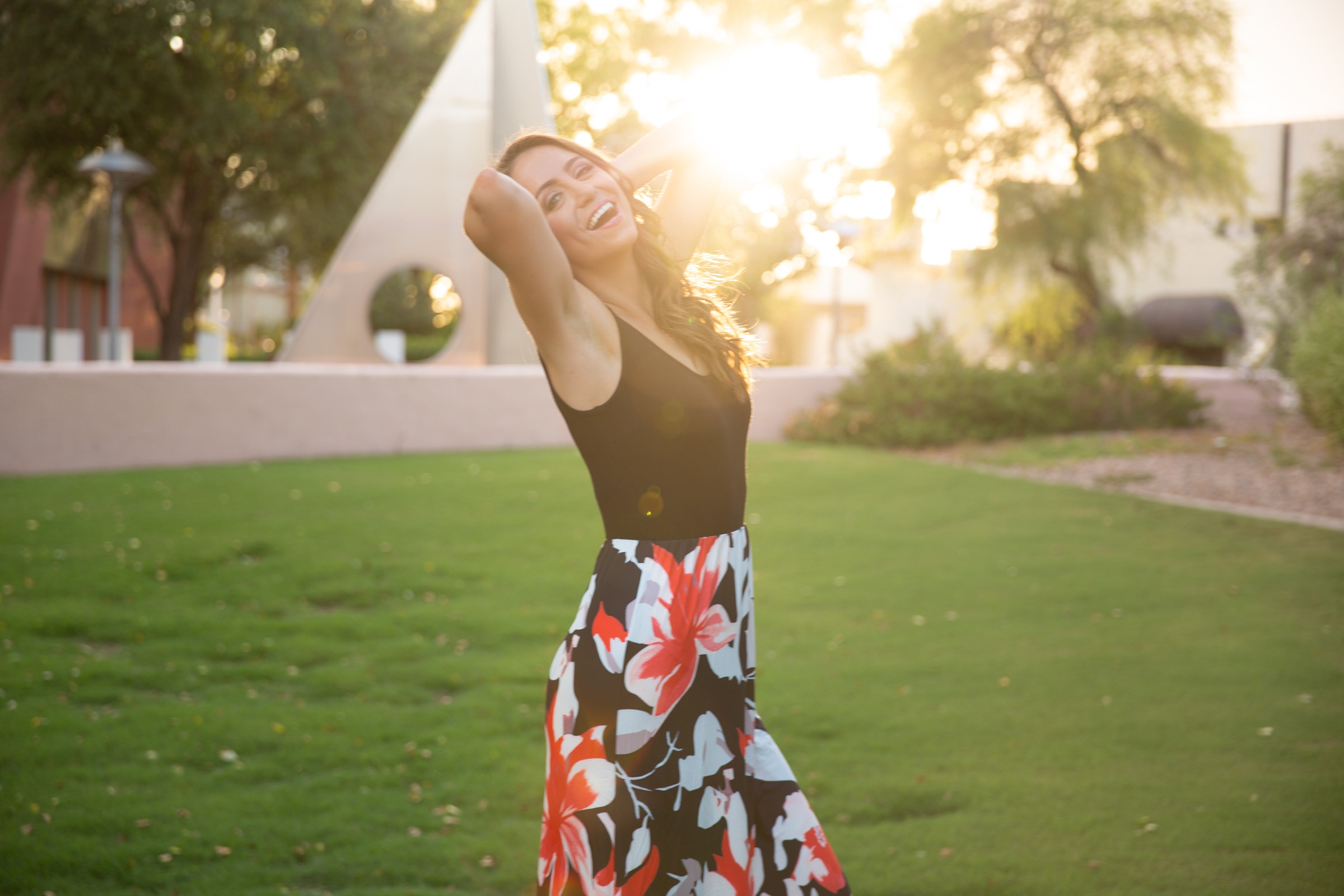 You Can Defeat Hyperpigmentation! 
There you have it, tribe! The three pillars of how to combat hyperpigmentation! Remember — no treatment regimen for hyperpigmentation is complete without a religious use of sunscreen. I cannot emphasize this enough! Even if you're spending the day inside, do your skin a favor and apply sunscreen. By doing so, you're giving your skin an upper advantage against wrinkles, hyperpigmentation, skin cancer, and other issues!
Also, keep in mind that sunscreen, antioxidants, and other skin treatments will not transform your skin overnight. While reversible, hyperpigmentation takes time to improve — sometimes six months or more. The key here is consistency! Even if you don't see results in a few weeks, don't give up on your skin. It needs consistent care in order to heal properly.
If you suffer from severe hyperpigmentation and you're not seeing any improvements, you should definitely consider going to a dermatologist for specialized treatment. We are the experts in all things skincare. After four years of college, four years of medical school, 12,000 – 16,000 patient-care hours in training, countless exams, and board certifications to diagnose and treat more than 3,000 diseases of the skin, hair, and nails as well as many cosmetic conditions, we truly are the skin & beauty experts! 
There are in-clinic treatments such as peels and lasers that will help reduce hyperpigmentation, but remember — none of that matters if you aren't protecting your skin on a daily basis with sunscreen. Sun damage is nearly impossible to reverse, so avoid it like the plague!
Tribe, I hope this guide about hyperpigmentation treatments and preventions was helpful! As always, my mission is to give you reliable information about skincare and skin science that empowers you to achieve the skin of your dreams. I'm over here virtually loving your skin and cheering you on for reading another blog post from the Millennial Doc podcast! You're one step closer to achieving glowing, healthy skin. 
If you enjoyed this episode, be sure to let me know on Instagram! Tag me, @drnikoleta, with a screenshot of the episode and your greatest takeaways. I'd also really appreciate it if you would subscribe and leave a five-star rating on Apple Podcasts — that helps us share the Millennial Doc podcast with more women like you!
And if you're looking for a community of like-minded individuals who prioritize skincare, self-care, and healthcare, check out the Millennial Doc Facebook Community. We'd love to have you join us!
And just FYI, there's a HUGE brand upgrade that's going on with my brand right now, and I plan on keeping you all in the loop. Get excited because it's going to be amazing! I'll be sharing more about this in the upcoming weeks.
Until next time, protect your skin from hyperpigmentation and glow with confidence! I love you all!