Are you considering pursuing a career in healthcare, but facing four to 12 years of school makes you want to panic? School is a big, long commitment, especially if you consider all the years you're spending money on education so that you can make money with that education. But from personal experience, I can tell you that it's worth it, and the time goes by really, really fast.
When I was 18 years old, I remember telling my friend in college, "When I'm 30, I'm going to be a dermatologist." Now, I admit to being clueless about what my dream would take. I didn't know how it was going to happen. I didn't have any physicians in my family at that time. And I didn't know a single dermatologist. But that's what I said I was going to do, and so I did it! 
On the other side of 13 years of school, I am married to the love of my life, I'm a mamma to a son who lights up my whole world, and I'm a board-certified dermatologist. I also have published 19 peer-reviewed scientific articles of dermatology literature — many of which I am the first author. It wasn't easy, but I had a big God seeing me through every step and mentors who helped me make the best choices for my career. 
So, in the off chance that you're interested in becoming a dermatologist and don't know what that entails, I'd like to be your virtual mentor. Today, I will walk you through the four phases required to become a board-certified dermatologist. And if you're not interested in becoming a board-certified dermatologist, I hope this post gives you a new appreciation for how much dermatologists study and learn about the skin to get to where they are today! 
In either case, I hope what I share today gives you a fresh perspective on perseverance and a boost of motivation to go for whatever you want in life — even if it feels like a marathon. 
The First Four Years: University 
Two weeks ago, I received BIG news: I am officially a board-certified dermatologist. You guys, this is something that I've worked on for the last 12 years of my life. Dermatology is an excellent specialty in medicine, but it is a long road. If this is something you choose for yourself, you will need to work hard, be persistent, and most importantly, have a drive and passion for what you do. 
The first step is to go to college or university and get your Bachelor of Science Degree.  From there, you take the MCAT, and you apply to medical school. Becoming a dermatologist literally requires you to become a medical doctor who then specializes in issues of the skin. So, after you pass your MCAT, you apply for medical school. 
I was fortunate to have been accepted into an accelerated BS/MD program which meant I could get my undergraduate degree in two years. It was a very intense two years, but I excelled in my academics. When it came to the MCAT, I didn't score high enough to pass the first time, and through a series of events, I took a year off to recalibrate, study, and make new connections. Finally, I took the MCAT the subsequent time and scored very high! 
Looking back I realize that there are more important things than grades and school. Those things, like our health, personal relationships and spirituality, often require us to slow down if we want to enjoy them. While getting to medical school did not occur as fast as I wanted to after finishing my Bachelor's in two years (it took me 4 years instead of the accelerated 2 years), I wouldn't undo it because of the way it taught me to appreciate and savor life's experiences! You can read more about my story here! 
For those of you who are entrepreneurs or pursuing other specialties in healthcare, I think this is a good reminder that relationships matter. If you're not sure what you want to do next, find people who are doing things you could see yourself doing and learn from them. It's okay not to know your specific next step, but don't think the answer is just going to land in your lap. You may have to pursue learning about other opportunities until you find one that suits and excites you. 
Tribe, cultivate relationships and don't settle. Whether or not you choose to become a dermatologist, the road to success tends to be a long journey — a journey worth taking, but one that also requires enough passion to see you through the tough times, too!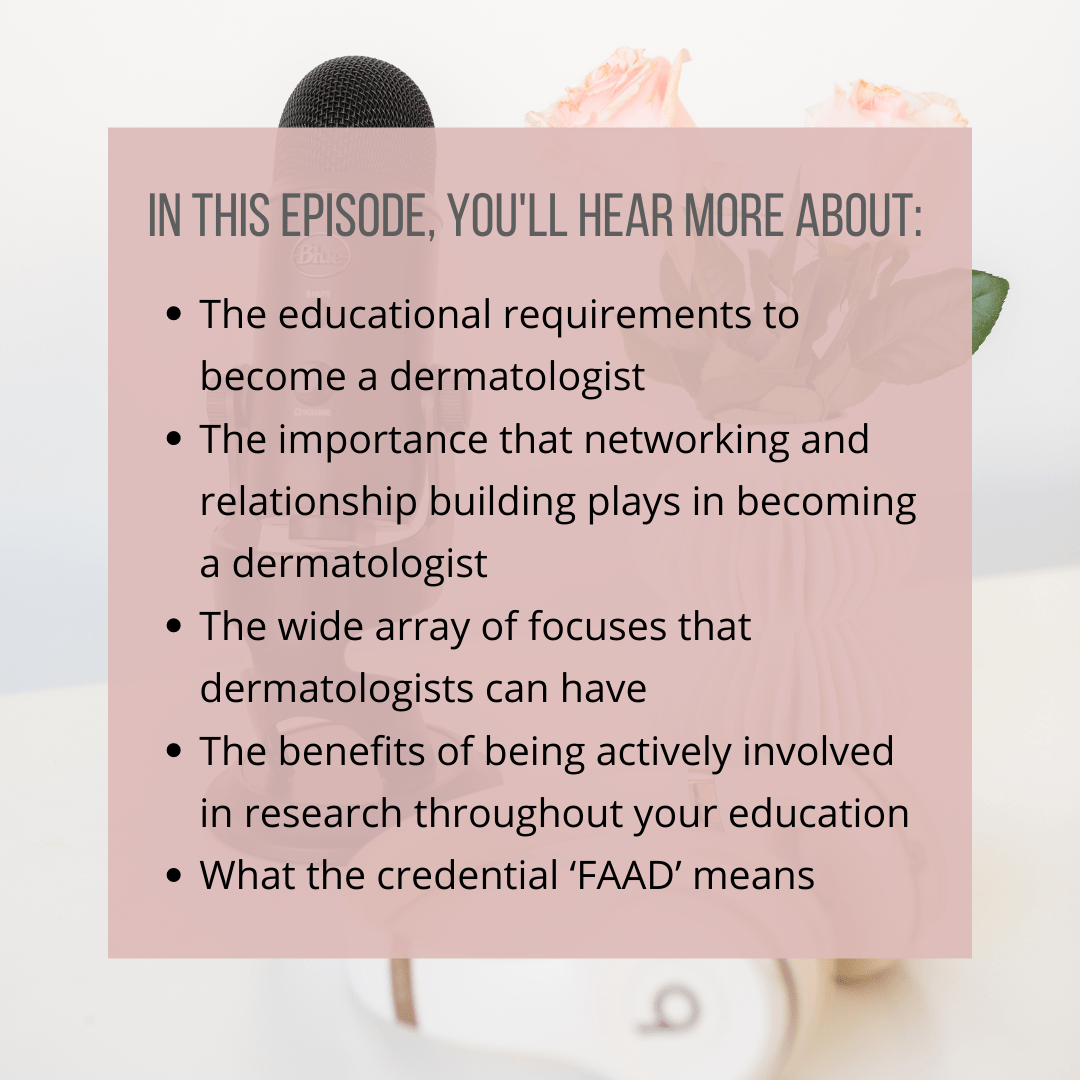 The Second Four Years: Medical School
Because I knew I wanted to pursue dermatology and had mentors guiding me, I started networking and researching a little bit toward the end of my undergraduate career. However, as soon as I started medical school, I was super intentional and focused. I went out of my way to build relationships with mentors in the dermatology field as well as research and draft scientific papers for peer-review and publishing. 
All of this was rolling by my second year of medical school. That's why I say this career path takes a lot of persistence. I wasn't just going to class and studying. I was building relationships, writing additional papers, and jumping through multiple hoops to get them published. 
During your fourth year in medical school, you decide which specialty you'll apply to. When you graduate from medical school, you are a Doctor of Medicine (MD). In other words, you're a physician and can prescribe medications. Residency is when you take that a step further and train under specialized physicians. 
For example, if your residency is in dermatology, you're training under other dermatologists. Dermatology is one of the two most competitive residency programs for two reasons. First of all, there are very few positions, and secondly, it's a highly sought after specialty. 
Dermatology is a very interesting and multifaceted field — you can really do so many things in it! You could be a surgeon, pediatric doctor, or work with elderly patients. If you have a lot of interest in research such as immunology and lab work, you could even focus on that aspect. You can also do dermatopathology, which I'm pursuing in my fellowship, and you can also study cutaneous oncology, skin cancer surgery and lasers. 
If you're interested in understanding the different dermatology avenues, I think you'll appreciate this episode I did with my husband, Dr. Edward Prodanovic. It's a great exploration and introduction to the many paths you can take within dermatology! 
Tribe, I hope this encourages you to look ahead even if you're pursuing something so big it scares you a little. Once you know where you want to go, start looking at the steps you can take to get there or make your transition smoother. Whether or not you want to be a dermatologist, don't be so afraid of the work it takes to get there that you wait for it to get dropped in your lap. Start going after it because you want it and you believe in yourself!
The Third Four Years: Residency
Dermatology residency is a total of four years. The first year is a transitional year. You can do your first year in internal medicine, surgery, or pediatrics. Either way, that first year typically doesn't include much dermatology. It's just a year of medicine. After that, you begin your official three years of dermatology residency.
During the three years of official dermatology residency, you read a huge textbook. It's two volumes, each weighing probably 20 something pounds. I'm not kidding. Those books were so heavy! This textbook contains 4,000+ dermatological diseases and conditions. We read this textbook each year with the end goal of seeing and studying the information for a total of three times. 
While you're training under other dermatologists and reading that textbook, a major part of your curriculum is learning general dermatology. This information covers the bread and butter conditions, infectious diseases, benign and malignant neoplasms, skin cancers, and more. In addition, you also study the basic science of the skin. Basically, it's the minutiae of your skin — all the cells, how they work, where the genetic diseases are, and different mutations. 
It's really important for dermatologists to understand the intricate structure of the skin, proteins, and collagen — all the basic science — to understand the different genetic conditions or autoimmune diseases. In other words, when we understand individual defects and how they look on the skin, we can provide efficient and quality care for each patient. 
Another component of dermatology residency is surgical dermatology. Within our surgical dermatology curriculum, we learn about skin cancer, incisions, and lasers. We have to know the components of lasers and what differentiates lasers from one another. We also cover chemical peels, fillers, Botox, and more cosmetic procedures. All of that is part of our actual residency curriculum that we are tested on, as well as pediatrics and dermatopathology. 
During this season of my dermatologist journey, I really grew to appreciate all my patient experiences and how they set me up to be a better caregiver and provider. Sometimes they felt boring and redundant, but now I can see their value in equipping me to add more value to the world. So, whatever you're pursuing right now, embrace the basics. If you're stuck in growing your business, consider reviewing some basics. If you're seeking an education in the healthcare field, know that the basics are invaluable.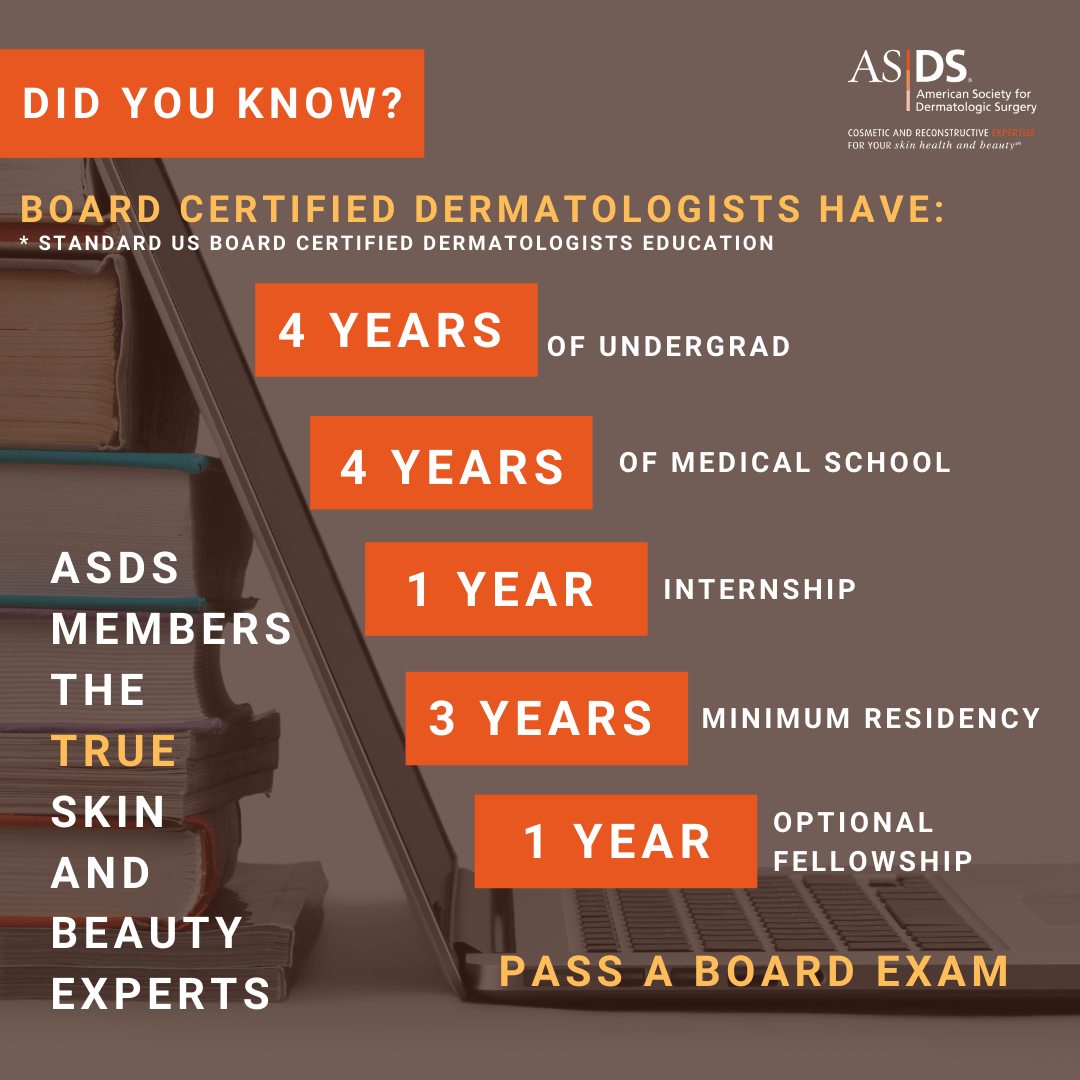 The Final Step: Fellowships and FAAD
Once you've completed your residency, you then continue to prepare and study hard for the home stretch of taking your dermatology board-certification exam. Once you do pass your exam, you earn your FAAD (Fellow of the American Academy of Dermatology) accreditation. Some also choose to pursue a further specialization after residency called fellowship. Here's a quick introduction to each of these options:
Fellowship: After you complete a dermatology residency, you can pursue a fellowship as I did. For me, a fellowship in dermatopathology takes your specialization to the next level and helps you efficiently and effectively diagnose conditions that are more complex than what you saw in residency. In this fellowship, you are trained to look under the microscope, and you examine biopsy specimens. Basically, you're evaluating the cells at a micro level. 
FAAD: If you ever see the initials FAAD after MD or DO, that is how you really know that this dermatologist has completed four years of medical school, four years of residency, and passed the official dermatology certification exam, as well as jumping through all the other hoops along the way. So, what does FAAD mean? It stands for Fellow of the American Academy of Dermatology. Attending medical school for four years, matching into and completing an accredited residency in dermatology, and passing the American Board of Dermatology certification exam — which was the one that I took and passed in October — is the only way to become a board-certified dermatologist. 
Why You Need to Consider This Education Path a Marathon
As you can see, when I finish my fellowship, I'll have been in school and training for 13 years. At 31, I'll finally and officially start my career. Being passionate about dermatology has kept me going, but seeing this journey as a marathon instead of a sprint has helped me finish strong.
For example, this spring, my co-residents and I were studying for our board-certification exam. It was supposed to be in July, but because of COVID-19, it was rescheduled for October. Almost overnight, preparing for the board exam went from being a sprint to being a marathon. 
When the exam was rescheduled, I decided to start taking study breaks — not just to grab a snack but multiple days long. If there's anything you learn from being in school for 13 years, it's that there is such a thing as studying too much. So, I took a break from studying when we moved to Texas in July, and I picked it up again in August. 
Studying for this exam — becoming a dermatologist, period — was definitely a marathon and not a sprint. Whatever it is you're working towards — whether it's cultivating healthier skin, building a business, or becoming a dermatologist — put a little work in every single day. For me, that looked like being a new mom, waking up at 4:30 AM to study before commuting 40 minutes to work each day. After getting home and spending time with my son, I would study some more before going to bed. 
So tribe, that's the gist of what it takes to become a board-certified dermatologist. And that's why I say you need to be really dedicated if you're going to pursue dermatology. If you want to hear a more personal and in-depth take on this journey — my story, really — you can listen to my very first episode here or read all about it on my website. 
Thank you all so much for spending your time with me today! You guys are so supportive, and I absolutely love the DMs I'm getting from all of you on Instagram — keep them coming. I always do my best to answer each one. 
If you were encouraged by this message, I have three things you should know! First of all, I have a Millennial Doc Facebook Group where listeners share their thoughts on each episode and ask questions! I would love to see you there. Secondly, please screenshot this and share it on Instagram. Tag me, @drnikoleta, and let me know what you learned! And finally, I would be forever grateful if you would subscribe to this podcast on Apple Podcasts and leave a five-star review. That kind of support helps me reach more listeners and impact more people. 
Until next time, don't forget to Step Out With Confidence® and pursue your dreams!